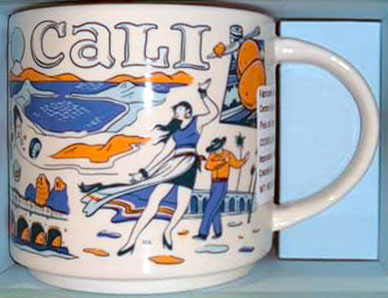 Been There – Cali
Since I only have one picture of Starbucks Been There – Cali mug, this is considered a preview with the expectation to give it a second look when pictures of all of the sides will be available to me.
Santiago de Cali (which is the full name of the city) – is the capital of the Valle del Cauca department. With access to the Pacific Ocean, it is the main urban and economic center in the south part of the country.
Here's an interesting historical fact: the founder of Cali, Sebastián de Belalcázar, came to America with Columbus (third voyage in 1498). Belalcázar founded Santiago de Cali on 25 July 1536, after almost 40 years of exploration of the American continent.
Did you know that Cali is called "Capital de la Salsa" (Salsa's Capital), due to salsa dance being extremely popular in the city? Cali has the most salsa schools and salsa teams in the world and you can always find open clubs playing salsa music on any night of the week. Cali-Style Salsa is strongly influenced by Caribbean rhythms and focuses on the footwork with quick rapid steps and skipping motions.
Other nicknames of the city include: "Capital of Happiness", "Sports Capital of Colombia", "Branch of heaven".
Did you like this mug?