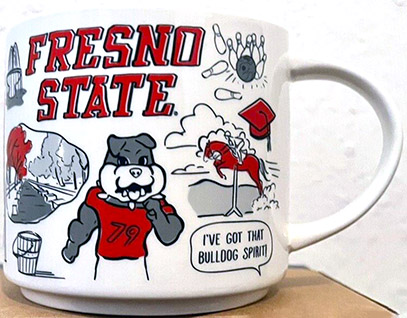 Been There – Fresno State
Starbucks is expanding the Campus Collection with Been There – Fresno State mug. Founded in 1911 as the Fresno State Normal School, Fresno State (California State University, Fresno) is a public university with some unique facilities like a planetarium, on-campus raisin, and wine grape vineyards, and even a commercial winery. You can see the references to that in the design of the mug: a person holding a bunch of grapes and also a wine press on the back.
Other symbols of the Fresno State that were added to the mug's design:
– Victor E., the bulldog, was chosen as the University's mascot in 1921. According to the official version, a white bulldog visited the campus for days looking for food and treats. He was later adopted by Student Body President Warren Moody and never left the campus since.
– The red paw on the side of the mug is an alternate logo (besides Victor E.) of the Fresno State Bulldogs (athletic teams representing the University)
– The horse and the rider refer to the Fresno State equestrian team and go hand in hand with the Fresno State Equine Program, which is pretty unique on its own.

Did you like this mug?