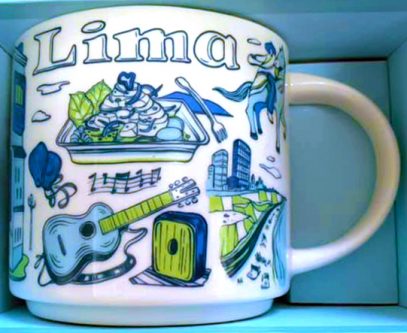 Been There – Lima
Starbucks Been There – Lima is the only BT mug for Peru so far. Not sure why they decided to do the city prior to releasing the country, but that is how it is.
Lima is the capital and the largest city of Peru, it was founded in 1535 by Spanish conquistador Francisco Pizarro under the name City of Kings (Spanish: Ciudad de los Reyes). This name lost the battle with time, though and the local name of the oracle – Limaq ("talker", "speaker") took over.
From the mug:
– Ceviche is a must-try Peruvian dish, which is made with fresh raw fish marinated in citrus juices, chili, and onions. It is usually served with a side of roasted corn and sweet potatoes.
– The Government Palace (Spanish: Palacio de Gobierno), also known as the House of Pizarro, is the seat of the executive branch of the Peruvian Government, and the official residence of the President of Peru.
– I was not able to identify the actual building on the side of the mug, but it might be just a generic representation of the unique style many historical buildings in Lima have. I am talking about those famous balconies which you can only found here. Most of them are closed with jalousies and there are that many of those, that you can call Lima "the city of Balconies". It seems that the main reason for building closed balconies was to shield women of nobility from voyeuristic gazes. They were also sites of gossip and amorous encounters.


Did you like this mug?