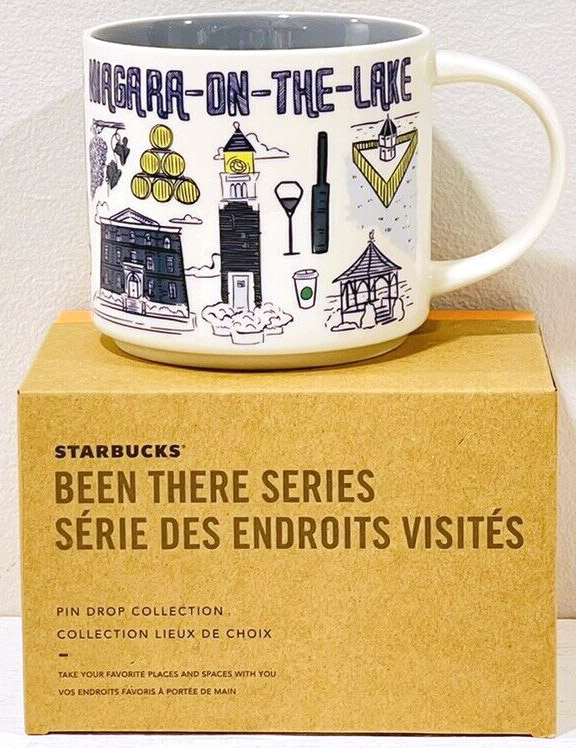 Been There – Niagara-on-the-Lake
Here is an interesting release from the Pin Drop Collection subset of the Been There Series. As a reminder, the boxes of these mugs are orange, compared to regular blue and the cover has slightly different wording. You can see the comparison of the boxes below.
Starbucks Been There Niagara-on-the-Lake is a mug for a town in Ontario, Canada located at the Niagara river mouth, where it flows into Lake Ontario. An interesting historical detail is that the town served as the first capital of the province of Upper Canada. It is now a popular destination, attracting tourists with its colonial-style buildings. Here are some of them as seen in the design of the mug:
– Niagara District Court House, a.k.a. the Court House Theatre, is a former courthouse and venue for the Shaw Festival (front of the mug).
– The Memorial Clock Tower or Cenotaph was built as a memorial to the town residents who were killed in action during the First World War. It is now a landmark of the town.
– Royal George Theatre was built in 1915 for the entertainment of troops garrisoned in the town during the First World War. After being a movie theatre for many years, it is now operated by the Shaw Festival Theatre.
– Fort George was a military fortification used by the British Army and the Canadian militia. What we see now is actually a reconstruction of the original fort, which was destroyed during the War of 1812.
– Brock's Monument is a 185 ft column dedicated to Major General Sir Isaac Brock, one of Canada's heroes of the War of 1812.
There is an interesting but useless detail about the Starbucks store that we see on the back of the mug, surrounded by two other buildings. According to streetview it occupied the building on the left prior to 2021 and then it moved to the middle one.


Did you like this mug?