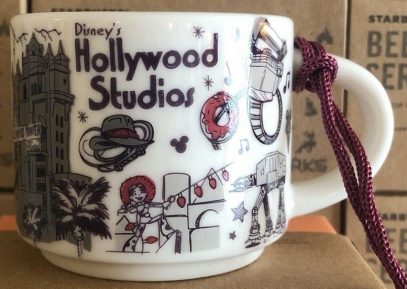 Been There Ornament Disney – Hollywood Studios
Been There Ornament Disney – Hollywood Studios is the second mini mug released for the Walt Disney World this season. So technically speaking Starbucks has been delivering a mug per day. With two other parks left, we are going to be done with the whole set very soon. The ornament has a brown string and these are some elements from it:
– Rock 'n' Roller Coaster Starring Aerosmith from Sunset Boulevard section of the park. It was opened on July 29, 1999, and has a sibling in Disneyland Paris. The rollercoaster include half-vertical loops, half-corkscrews, and a sea serpent roll sections and starts with up to 5G acceleration!
– AT-AT (All Terrain Armored Transport from Star Wars saga)) walking across the front of the mug
– The Twilight Zone Tower of Terror, a.k.a. Tower of Terror is also there and if you want to see how it compares to the same attraction from other parks, please check this full-size mug review out.
– Jessie from Toy Story came from the back of the regular size mug to the front of the ornament. Jessie keeps one side of the light string in her hands with the other one tangled around T-Rex (not pictured on the mug). These two are characters from Slinky Dog Dash roller coaster, one of the attractions in the Toy Story Land, which takes visitors into Andy's backyard.

Did you like this mug?