Been There – Puebla
Starbucks Been There – Puebla is a state and city mug from Mexico. Puebla de Zaragoza is the capital and the largest city of Puebla state, giving the latter its name. The city was founded in 1531 in an area called Cuetlaxcoapan, which means "where serpents change their skin", to secure the trade route between Mexico City and the port of Veracruz.
Here are some elements from the mug, which the state is famous for:
– China Poblana was a combination of a skirt, shawl and blouse meant to compliment a woman's figure, a dress style traditional to the region of Pueblo in the 18th century. It is believed to be introduced by "La China Poblana", an Asian woman who came to Mexico as a slave.
– Mole poblano is probably one of the most popular moles in the country as well as one of the most typical Mexican dishes. Its rich, deep color, texture and dozens of ingredients are what make it so special.
– Chiles en nogada – poblano peppers that are covered with white sauce to resemble the flag of Mexico. Please read my previous post about Mexico mug where I cover this dish in details.
– Talavera Poblana pottery – was brought to Mexico from Spain and became highly developed in Puebla because of the availability of fine clays here.
– The volcano on the back of the mug is Popocatépetl – the second highest peak in Mexico and an active stratovolcano. It erupts on a constant, almost monthly, basis. Popocatépetl can be seen regularly from Mexico City, being just 40 miles from it. Other notable volcanos are Citlaltépetl (Pico de Orizaba) – the highest mountain in Mexico and Iztaccíhuatl, the third-highest. All of these are located within Pueblo state, while still at the border with other states.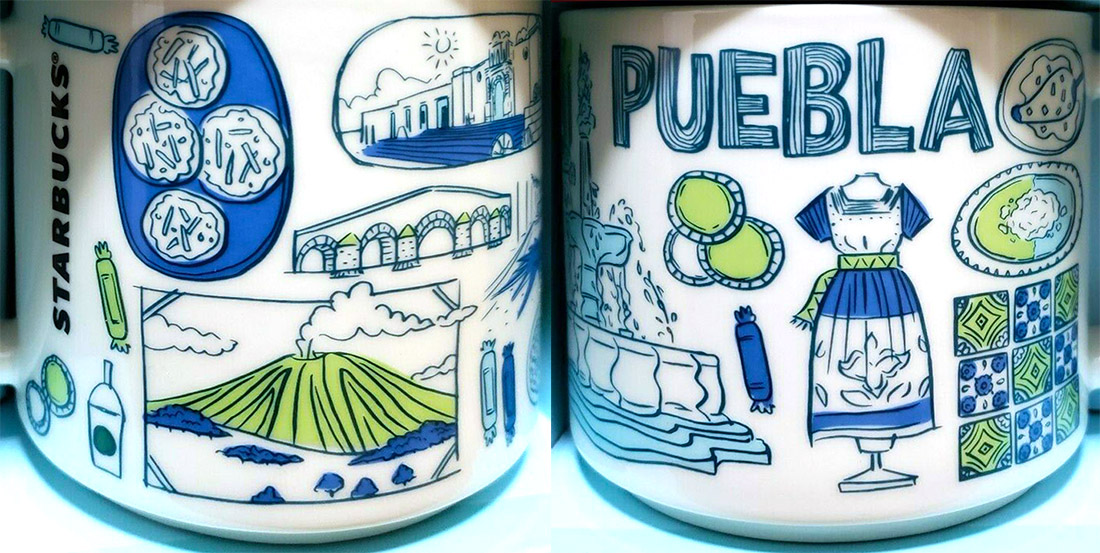 Did you like this mug?