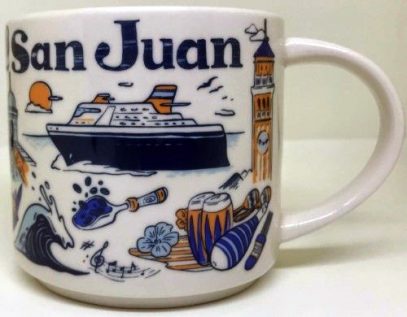 Been There – San Juan
Here is Starbucks Been There San Juan, the mug for the capital and the largest city of Puerto Rico. It is the third oldest European-established capital city in the Americas, after Santo Domingo and Panama City.
From the mug:
– Cruise ship – since San Juan is a favorite destination for numerous cruises, you can see 5-6 huge liners docked in the port at times.
– A colorful wooden door, with the Puerto Rican flag on it. I think designers just liked the look and colors of this door, since I could not find any special story behind it.
– Calle de San sebastian sign and masks, this is for the San Sebastián Street Festival – an annual event centered in the capital's historic district, Old San Juan.
– Clock Tower from University of Puerto Rico which was established in 1903. It has the largest and most diverse academic offerings in Puerto Rico and the Caribbean, with 472 academic programs in total.
– The Capitol of Puerto Rico is located just outside the walls of Old San Juan. The building is home to the House of Representatives and Senate.
See all sides of the mug below:


Did you like this mug?