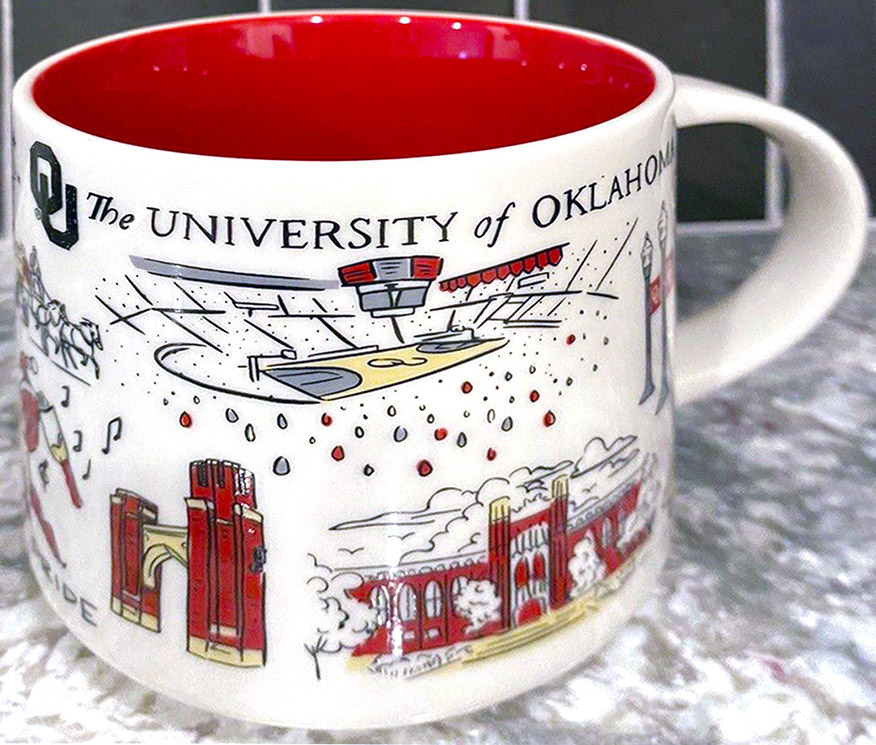 Been There – The University of Oklahoma
More mugs from the Campus Collection have been released recently. One of them is the Been There The University of Oklahoma for the public research university in Norman, Oklahoma. It was founded in 1890, seventeen years before Oklahoma officially became the state!
The mug is designed using the official colors of the University – crimson and cream. You can see an official abbreviation of the name of the University – OU, to the left of the title.
Here are some landmarks and symbols of the OU.
– The Oklahoma Sooners are 19 men's and women's athletic teams that represent the University of Oklahoma. The name "Sooners" refers to a nickname given to the early participants in the Land Run of 1889. This act opened the territories of the future Oklahoma state to non-native settlement. Interestingly enough, those who were proved to sneak into these lands before the official opening date of April 22, 1889, and tried to claim their part, were denied the right to the land.
– The Pride of Oklahoma or simply "The Pride" is the university's marching band that consists of 311 student musicians and dancers. It was founded in 1904 to play at "Sooners" football games. It is worth mentioning that one has to go through strict auditions before he can enter the band.
– During the games, a "Boomer Sooner" fight song is used. The lyrics were written by Arthur M. Alden in 1905, with the additional section added later.
– The Sooner Schooner is the official mascot of the sports teams. It is in fact a replica of the wagon used by the early settlers of the state. The wagon is pulled by two white ponies named Boomer and Sooner
– Gaylord Family Oklahoma Memorial Stadium, a.k.a. Owen Field or The Palace on the Prairie is the home of the Oklahoma Sooners football team. The capacity of the stadium is whooping 86,000 seats
– The Lloyd Noble Center was opened in 1975 and is home to the University of Oklahoma men's and women's basketball teams. It fits around 11,000 people.
– The Bizzell Memorial Library, a.k.a. Bizzell Library was constructed in 1928-1929 using Cherokee Gothic style, which is quite unique as it combines conventional Gothic and Native American elements.


Did you like this mug?