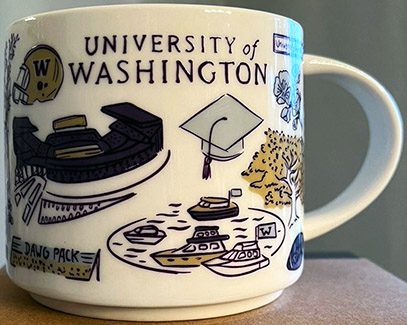 Been There – University of Washington
Starbucks Been There – University of Washington is finalizing the list of mugs from Campus Collection for now. There is a big chance there will be more of this kind this year, so stay tuned for the news.
The University of Washington (also informally known as U-Dub) was founded in Seattle in 1861, making it one of the oldest universities on the West Coast. The city itself was founded just ten years prior, and it was growing along with the university since.
The front of the mug shows Husky Stadium, an outdoor football stadium. It was originally built in 1920 but obviously went through numerous expansions since then. Its total capacity exceeds 70,000 seats now. The stadium's open end overlooks Lake Washington, which you can also see on the front of the mug (with the boats on it). The stadium has an official student section which is called the Dawg Pack (front of the mug, bottom right).
Harry the Husky (on the back of the mug) was adopted as the mascot for the University's athletic program back in 1923. Nowadays, the costumed mascot performs at sporting and special events. Interestingly enough, Harry seems to have a brother and a sister since two university branch campuses decided to adopt their own mascots. Their names are Hendrix the Husky for the UW Tacoma and Holly the Husky for the UW Bothell.
Another interesting detail is that it is believed that the first audience wave originated in Husky Stadium on Halloween 1981. You can see a line of people on the back of the mug performing it.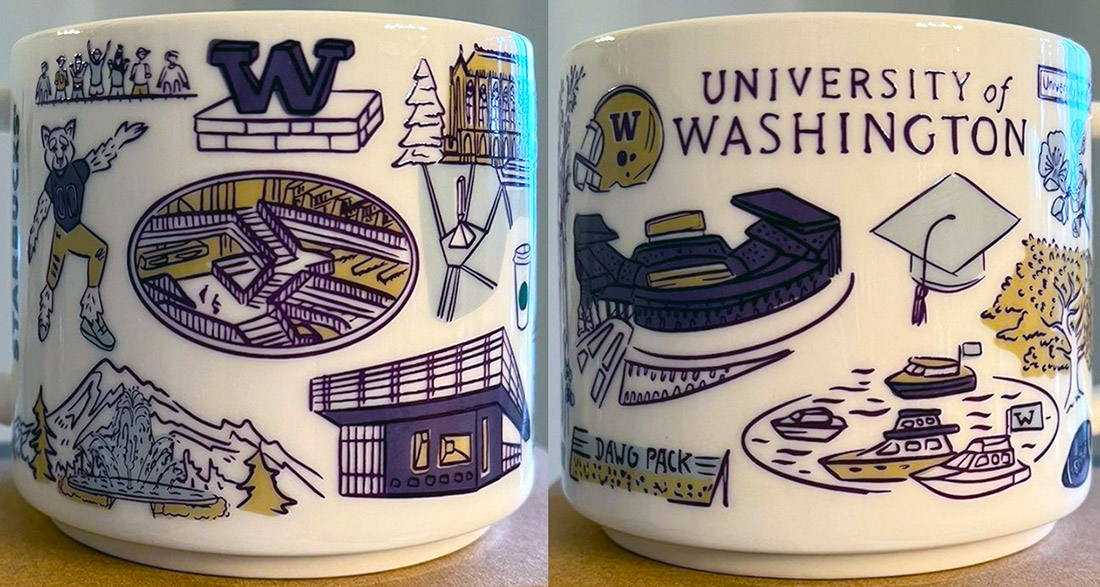 Did you like this mug?