You Are Here – Balearic Islands
Spain scores big time, as there's a bundle of five mugs released simultaneously. Here's the first of them, Starbucks You Are Here – Balearic Islands.
The Balearic Islands are an archipelago along the eastern coast of Spain, in the western Mediterranean Sea. This, in fact, is the autonomous community of Spain, with the biggest islands being Mallorca, Menorca, Ibiza, and Formentera. You can see those on the back of the mug. Palma de Mallorca is the capital of this province. The name of this city is pretty well known as well as the name of the Ibiza island. The latter is an international party destination, attracting many of the world's most popular DJs to its nightclubs.
The biggest element on the front of the mug is the Royal Palace of La Almudaina. This Alcázar (fortified palace) is located in Palma. The word 'Almudaina' comes from the Arabic for 'fortress', however, this place has been conquered so many times, that the castle has many more styles captured within the same ancient walls.
There are two bicycles on the back of the mug, which is probably one of the best options to fully enjoy the trip to the islands and explore the hidden, less-known spots. Riding old country roads will allow you to witness the most beautiful sides of nature, gorgeous coves, beaches, and monuments. The tracks are mostly flat and temperatures are mild all year round, thus no need to be hardcore bike traveler to enjoy the trip.
Sand, sea, waves, and palms, seen all over the mug, are attributes of the archipelago it is known for.
There is definitely the sun, on the front of the mug, and there is probably another one on the back. Does this express the fact that you can see both sea sunsets and sunrises there? That I a am not too sure about. Correct me in the comments, please.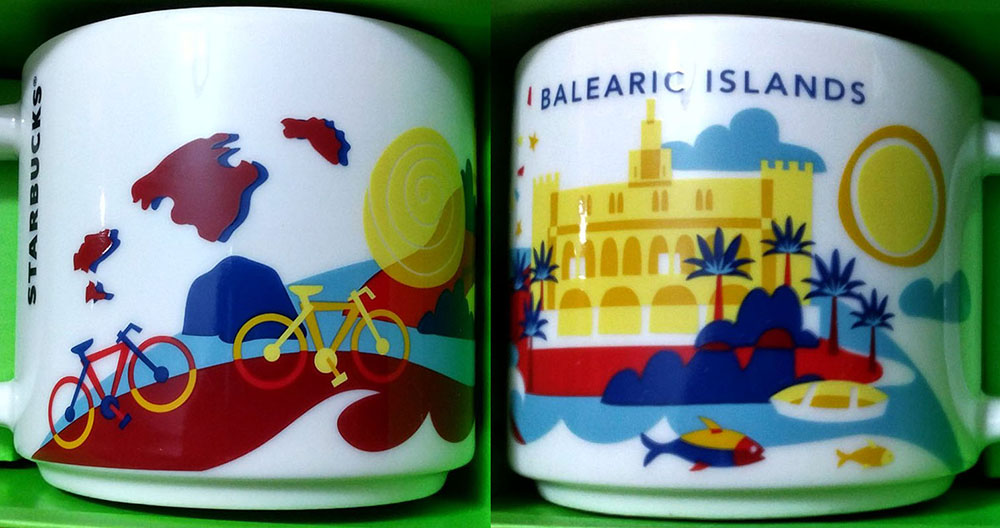 Did you like this mug?