You Are Here – Canary Islands
Starbucks You Are Here – Canary Islands mug is probably the hardest to get from those released for Spain recently. And it's not because there are too few stores (there are eight in total on two biggest islands), but because of the remote location of this autonomous Spanish archipelago. On the bright side, it's a very popular touristic destination all year round. You can get there by plane or by boat from mainland Spain, for instance. The ferry option, however, will take quite some time (30-40h depending on the route).
The seven biggest islands of the Canaries (informal name) are Tenerife, Fuerteventura, Gran Canaria, Lanzarote, La Palma, La Gomera, and El Hierro. There are many more smaller ones withing archipelago. Interesting enough, Starbucks decided to not use Spanish name for this mug, as it did for some others.
Speaking of the mug, it is obviously designed keeping in mind the location and climate of the islands. We see sea waves and surfboards on the front as well as Phoenix Canariensis which is a variation of the palm tree, native to these islands. It is the symbol of the Canaries, together with the bird, well-known to many – the Atlantic Canary (Serinus Canaria).
The special place is devoted to Mount Teide. It is a volcano on Tenerife which is 12,198 ft (3,718 m) high making it Earth's third-tallest volcanic structure (according to NASA).
The back of the mug shows some elements of the traditional costumes of the Canary Islands.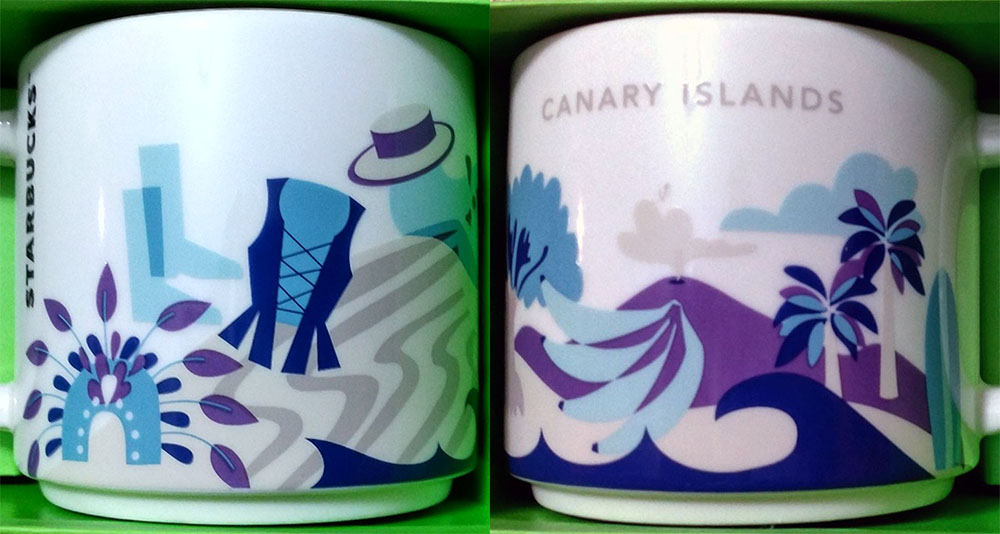 Did you like this mug?