You Are Here Christmas – Egypt
Starbucks You Are Here – Egypt is a country mug from 2018 Holiday Season, which fell through the cracks and which I only discovered now. What's interesting about this mug, that it has no regular version! That is correct, we have no option to compare it to colorized one, so let's review it as is. According to Starbucks, here are some points of interest which are associated with Egypt the most:
– Three Egyptian pyramids located in Giza are the Pyramid of Khufu (a.k.a. the "Great Pyramid" and the "Pyramid of Cheops"); the Pyramid of Khafre (or Chephren), which is a little bit smaller and the Pyramid of Menkaure (or Mykerinus) which is the smallest of these three. There are obviously more pyramids discovered in Egypt, but those from the Giza are the most known outside of the country, with Pyramid of Cheops being the tallest as well.
– The Great Sphinx of Giza a.k.a. just the Sphinx is a famous statue next to Giza Pyramids which looks like a lion with the human head. The face of the Sphinx is generally believed to represent the pharaoh Khafre, however, it is still debatable as well as when, by whom and for what purpose it was built. It is interesting to note, that the paws of the sculpture were under sand for quite a while. They have been fully excavated by 1920.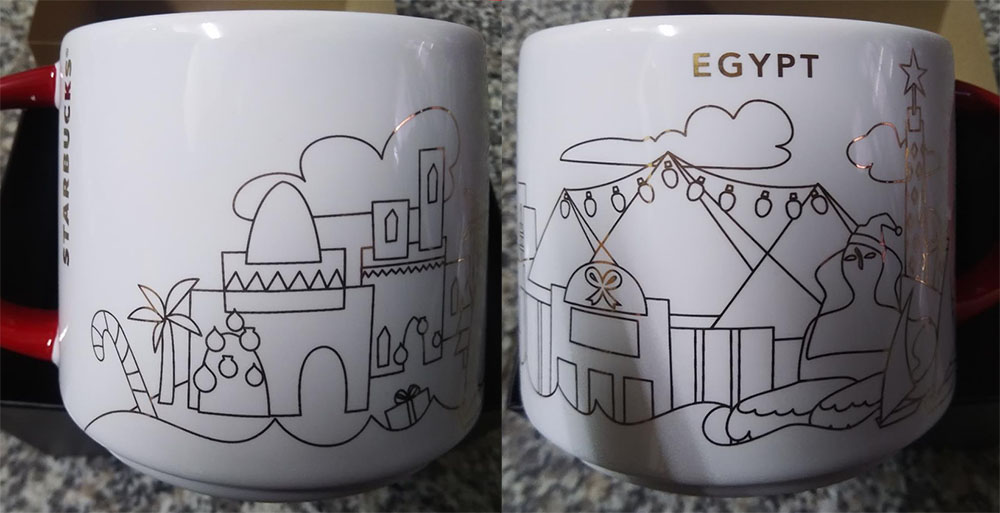 Did you like this mug?