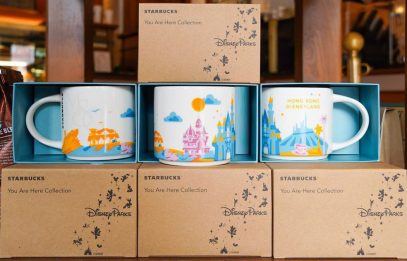 You Are Here Disney – Hong Kong Disneyland
Breaking news! Just when Starbucks lulled our vigilance with BT and Christmas releases, it strikes again with another mug from Asia. And it's no less than You Are Here Disney – Hong Kong Disneyland! Well, what can I say? Collecting Starbucks mugs is definitely not boring and you never know what new day brings you. This new mug boosts the total number of Disney YAHs to 20, which is more than enough to set up a nice-looking display.
Hong Kong Disneyland a.k.a. HKDL opened on 12 September 2005 and while it the smallest of all the parks it has a lot to offer. There were only four "lands" available on the park's opening:
– Main Street, U.S.A., designed to resemble an early 20th-century Midwest town;
– Adventureland, offering jungle-themed adventures;
– Fantasyland, showcasing characters and places from Disney's children's movies;
– Tomorrowland, a look into the future
Three more "lands" were added later:
– Toy Story Land, for the Pixar's bestseller, opened in 2011.
– Grizzly Gulch which brings you into an abandoned mining town lost in the woods and surrounded by mountains. It was opened in 2012.
– Mystic Point, a rain forest where supernatural events take place, opened in 2013.
Two more "lands" are expected to be added soon: Frozen Land and Marvel area in 2021 and 2023 respectively.
A better, more detailed photos are yet to come, stay tuned!


Did you like this mug?