You Are Here – Kingdom of Saudi Arabia – Saudi National Day
You Are Here – Kingdom of Saudi Arabia – Saudi National Day is a special edition of the regular YAH. It has been released to honor the celebration of Saudi National Day which is held every year on September 23 to commemorate the renaming of the Kingdom of Nejd and Hejaz to the Kingdom of Saudi Arabia. The mug is designed using a green color palette. Green is the main color of the flag of the country and represents Islam. As you can see from the comparison picture below, apart from being green, the new mug has some differences compared to the regular mug, namely the year 2019 and the words in the Arabic below the title, which literally say "2019 National Day of Saudi Arabia". To fit these, designers had to make the sun and the cloud below a little bit smaller. I don't see any other changes apart from that.
As for the availability, these have been seen in stores already, however in dramatically small numbers. I believe the situation with the supply is going to improve, however, this seems to be a limited edition mug and I strongly suggest to get it as soon as you can, if you happen to have a chance.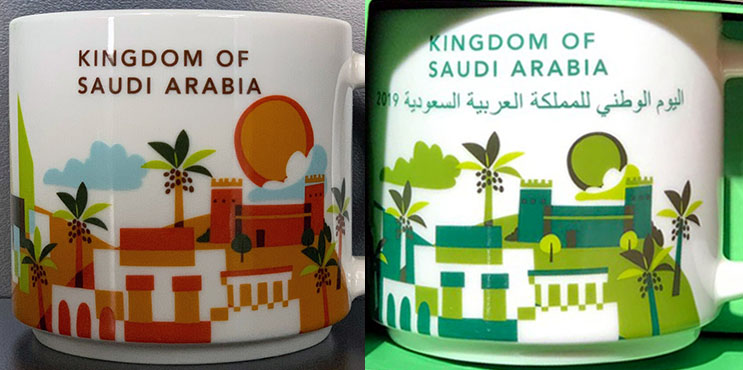 Did you like this mug?