You Are Here – Lille
Starbucks You Are Here Lille mug has been spotted in stores this week. This is the city in French Flanders, on the north of France, right next to the Belgium border. Here are some points of interest spotted on the mug:
– The Porte de Paris ("Gate of Paris") is an Arc de Triomphe built in the 17th century to commemorate Louis XIV conquering the city. It looks like a building, rather than an arch, which makes it special.
– Chambre de commerce de Lille with its majestic 250ft high belfry. It has 25 bells and 4 clocks facing all 4 sides.
I am surprised they didn't include Lille Cathedral (the Basilica of Notre Dame de la Treille) which is a national monument. It is also an example of Gothic Revival architecture.
When you are done enjoying historic buildings, try Lille's classic meal – a bowl of "moules frites" – mussels and french fries. Add a glass of local beer to make it especially delightful.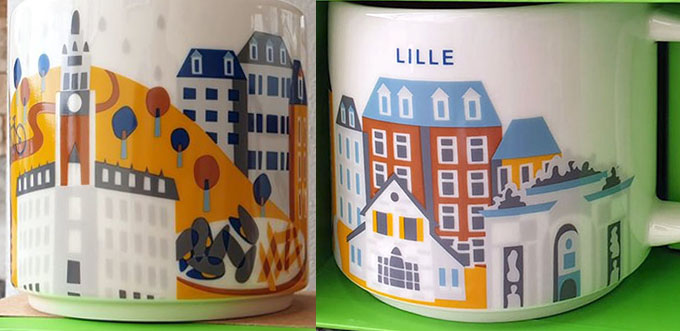 Did you like this mug?