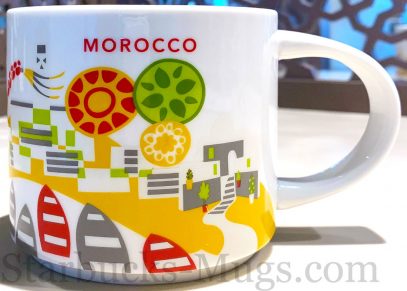 You Are Here – Morocco
Starbucks You Are Here – Morocco is another fresh release reveal that I would like to thank my reader for. She has confirmed to me that Morocco and Rabat are now available in stores.

This new mug has a bright colorful design showing multiple small boats along the sandy shore with the city skyline in the background. We see three pieces of the traditional Moroccan pottery, above that. There are three cities in Morocco that specialize in ceramic artistry: Meknes, Safi, and Fez. Together, they produce at least 80% of the pottery in the country. Just look at the picture of those dish plates! Don't you want to start collecting those along with the Starbucks mugs? These are definitely something to bring back with you from your trip to Morocco.

Did you like this mug?