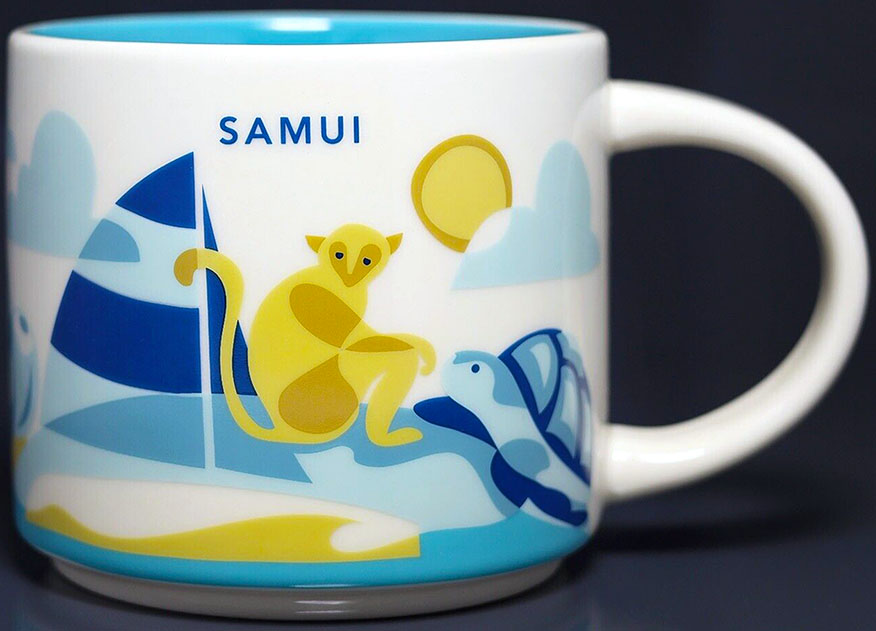 You Are Here – Samui
Here is the recent release from Thailand: You Are Here – Samui. This is the mug for Ko Samui (Koh Samui), an idyllic island located in the Gulf of Thailand, where traveler's dreams come true. With its pristine beaches, crystal-clear waters, and lush greenery, Samui offers a perfect blend of relaxation and adventure.
Koh Samui is situated in the Chumphon Archipelago, about 435 miles south of Bangkok. The island spans approximately 88.3 square miles, making it the second-largest island in Thailand (after Phuket). Samui enjoys a tropical climate, with warm temperatures year-round. The dry season typically lasts from December to February, while the wet season occurs between September and November.
These are the most popular touristic activities to do on Samui:
– Embark on a boat tour to explore the neighboring islands, such as Koh Phangan and Koh Tao. Discover hidden coves, snorkel in vibrant coral reefs, and soak up the sun on secluded beaches.
– Treat yourself to a pampering session at one of Samui's luxurious spas. Indulge in traditional Thai massages, rejuvenating spa treatments, and yoga classes overlooking the ocean.
– Night Markets: Immerse yourself in the local culture by visiting the vibrant night markets. Explore stalls selling handicrafts, sample delicious street food, and enjoy live performances by talented musicians.
Additionally, here are some places and points of interest to visit, when in Samui. Some of them, unfortunately, weren't included in the design of the mug.
– Beaches: The island boasts a plethora of stunning beaches, each with its own charm. Popular ones include Chaweng Beach, known for its vibrant nightlife and water sports activities, and Lamai Beach, offering a more laid-back atmosphere and excellent snorkeling opportunities.
– Big Buddha: One of Samui's iconic landmarks, the Big Buddha is an impressive 12-meter-tall golden statue located at Wat Phra Yai temple. Climb the stairs for a breathtaking view of the island's coastline.
– Ang Thong National Marine Park: Embark on a day trip to this breathtaking archipelago consisting of 42 islands. Explore pristine beaches, snorkel in vibrant coral reefs, and hike up to panoramic viewpoints for awe-inspiring vistas.
– Na Muang Waterfalls: Immerse yourself in nature by visiting the two spectacular waterfalls, Na Muang 1 and Na Muang 2. Swim in the refreshing pools or simply enjoy the tranquility of the surrounding rainforest.
– Fisherman's Village: Located in Bophut, this charming village offers a glimpse into Samui's traditional past. Stroll through the narrow streets lined with wooden Chinese shop-houses, indulge in delicious seafood, and browse local boutiques for unique souvenirs.

Did you like this mug?