You Are Here – Sevilla
The fourth largest city in Spain is getting YAH version – Starbucks You Are Here – Sevilla mug. Please note the Spanish spelling of the name of the city – Sevilla instead of Seville. This has been a tradition for Starbucks to use local names (where possible) for the international mugs.
The front of the mug shows us the flamenco dancer costume and this is expected, as one of the districts in Seville, Triana, is considered a birthplace of flamenco. Flamenco is not just a dance but an art that can take different forms, based on the various folkloric music traditions of Andalusian culture. Flamenco has become one of the well-known symbols of Spain.
Two colorful decorated tents, "casetas", next to the flamenco costume, symbolize Seville Fair or Feria de Abril de Sevilla, in Spanish. This is the fair which usually begins two weeks after the Easter Holy Week, at midnight on Saturday, and runs for seven days.
There is also Plaza de España in the background. It was built in 1928 and combines elements of the Renaissance Revival and Neo-Mudéjar styles of Spanish architecture. This is something you have to see for yourself, in person, to fully understand its size and beauty.
The acoustic guitar on the back, not only symbolizes the love and respect Sevillians have to this instrument but also Festival de la Guitarra de Sevilla which is a unique event held annually in this city.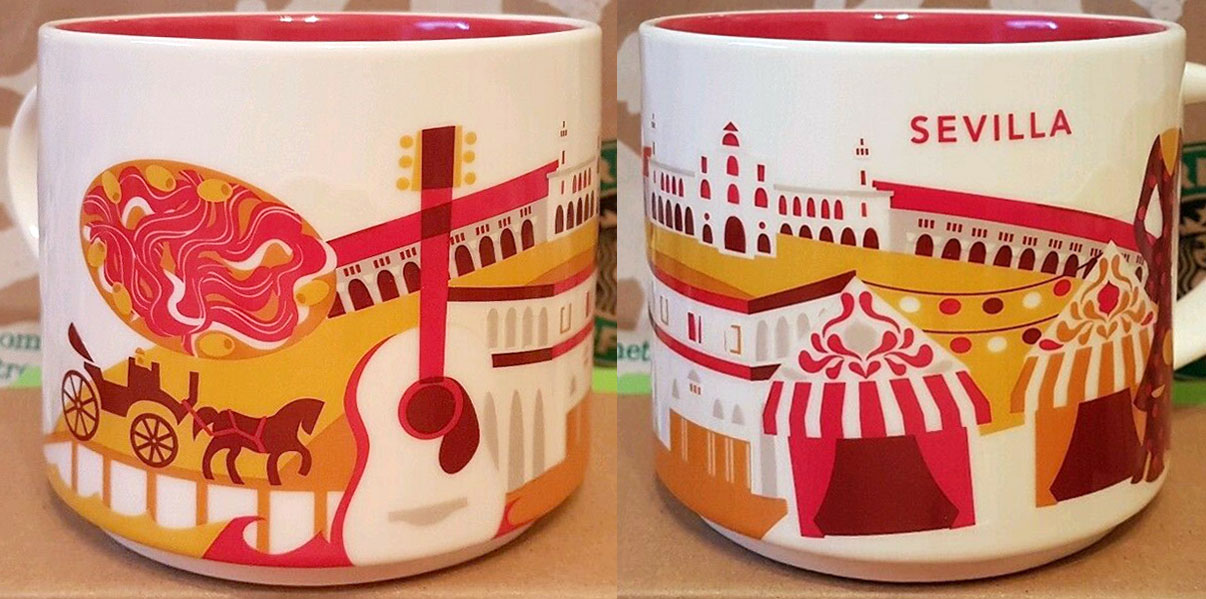 Did you like this mug?