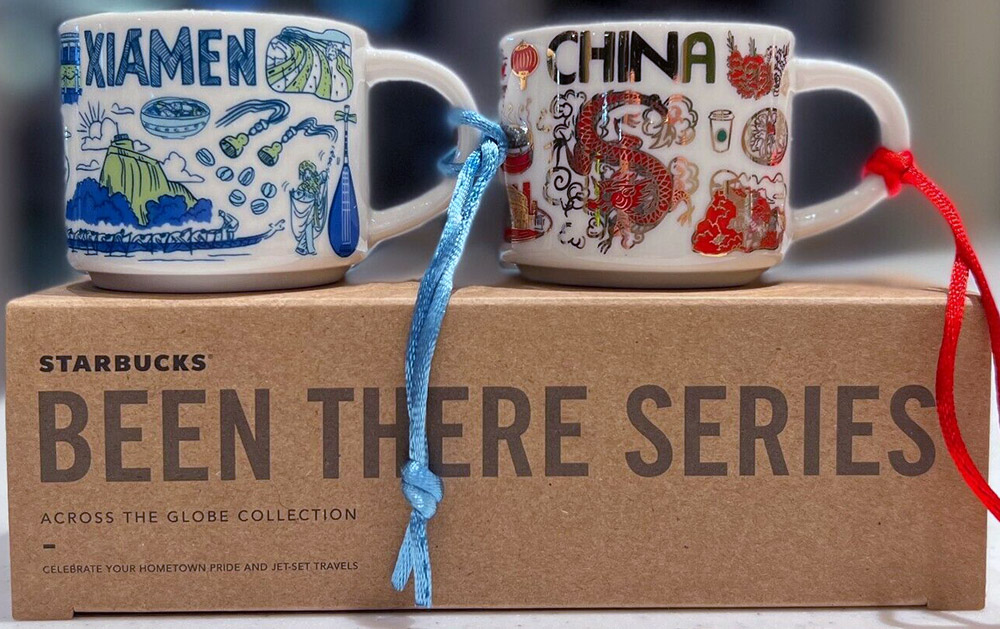 Mainland China Been There ornaments
What you see is the picture of the brand new Been There Ornaments released for Mainland China. There are thirteen cities and one country ornament revealed so far. The city ones match the design and the color palette of the bigger mugs (I reviewed them in my previous post). The country ornament, however, is special in at least two ways. First, there is no matching bigger mug for it, at least for now. And the second distinctive feature is the use of gold colors in the design. From a certain perspective, it reminds me of the Christmas China YAH from the previous years. Would you agree with me if I say that the China country ornament looks gorgeous and is the prettiest among other Been There series mini mugs? Please let me know in the comments.
Another very obvious and distinctive feature of the new release is the fact that the ornaments come in pairs of two. The new box is twice as bigger and holds one city and one country ornament. From the first look, it might be an issue for the collectors like me, who are willing to acquire all the cities, because they are going to end up with many duplicates of the China country ornament. If you've been collecting YAH ornaments, then you probably remember that some Vietnamese ornaments came in a set of three: Vietnam, Ho Chi Minh City, and Hanoi (see the picture below). However, this was a unique set, there weren't two different sets with some matching ornaments between them. Cambodia's set of three is yet another example of that. Cambodia, Phnom Penh, and Siem Reap came together in a box that allowed for an easy display of the ornaments. However, the big difference with these three was that they were available as separate items as well (see them at the bottom of the collage). That gives me hope, that Chinese ornaments will eventually be sold separately as well, otherwise, I am not sure I can afford to get all of them.
And if we decide to go further back in time, and take a glance at Demi Icons, we can see that they always came in sets of two. Just take a look at the Spanish sets on the right side of the collage. Each time you wanted a city mini mug, you had to pay for the country as well. What do you think guys? Will this be an issue for you? Again, feel free to leave a comment.

Did you like this mug?