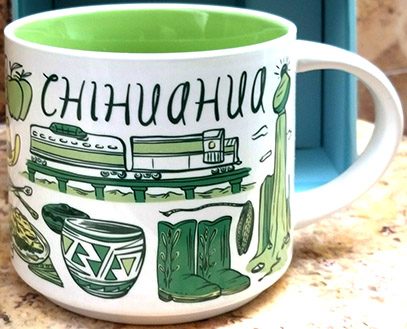 Been There – Chihuahua
I am catching up by adding missing Mexican mugs to the site. This Starbucks Been There – Chihuahua mug has been released back in 2018. Chihuahua is the name for both the state and the city in Mexico. My understanding it is a state mug since I don't really see any city symbols or points of interest.
The Estado Libre y Soberano de Chihuahua is the largest state in Mexico by area and hence having the nickname El Estado Grande ('The Big State'). It is bordered by the US in the north.
The train on the front of the mug refers to:
– The Ferrocarril Chihuahua al Pacífico (Chihuahua-Pacific Railway) or CHP, also known as El Chepe, is a major rail line connecting Chihuahua City to Los Mochis and Topolobampo – a seaport of the Pacific Ocean. Ir runs through the canyons passing over 37 bridges and going through 86 tunnels. The highest point of the road is near Divisadero at 7,900 ft above sea level, which is a popular lookout place.


Did you like this mug?