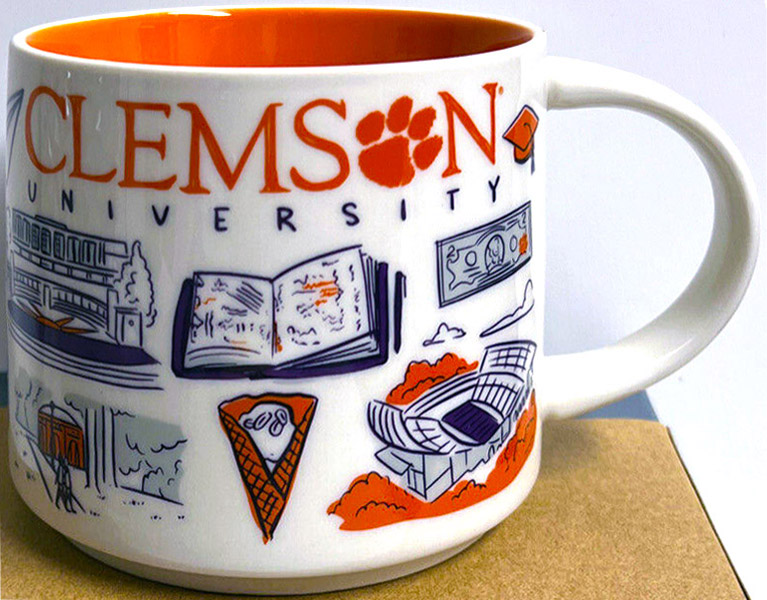 Been There – Clemson University
Starbucks Been There Clemson University mug is the newest addition to the Campus Collection. It is dedicated to a public land-grant research university in South Carolina. The University was founded in 1889 as Clemson Agricultural College of South Carolina. It was later renamed Clemson University in 1964, in recognition of expanded academic offerings.
Here are some landmarks and symbols from the mug:
– Clemson University Outdoor Theater is the venue for outdoor events. The Theater seats approximately 1206 on grass and concrete-tiered seating levels.
– Cooper Library can be seen behind the Outdoor Theater. It is one of the many libraries at the University
– The Clemson Tigers are the athletic teams of the University. You can see their mascot – The Tiger on the back of the mug.
– The Tiger paw became the official logo for Clemson University in 1970. It is replacing the letter "o" in the title of the mug.
– Clemson Memorial Stadium a.k.a. "Death Valley", is home to the Clemson Tigers. Built in 1941–1942, the stadium has seen expansions throughout the years.
– Howard's Rock is a large piece of quartzite. It is located at Memorial Stadium and it is a tradition for players to touch it before the game.
– Two dollar bill refers to "the $2 bill tradition" that is honored by Clemson's sports teams fans. They use tiger-paw-stamped Jeffersons when paying for services wherever they go. This is to declare their presence in the city where the game is held and highlight the fact that inviting Tigers to the game is good for local businesses.
– First Friday Parade (on the back of the mug) precedes the first football game of the season.


Did you like this mug?