Been There – Detroit
To be honest, I am not a huge fan of "fake news" and I am only trying to post when the mug is confirmed by real picture, however, you guys need to know what's going on. Thanks to leaks from insiders, we do have some more previews of new mugs coming for Starbucks Been There Mugs Collection. This particular picture is not even the front of the mug, but its back. It's not the state, but a city – Starbucks Been There Detroit mug. How do I know it's Detroit? Well, one of the elements has this title: "Campus Martius Park, and if we do some googling this is located exactly in Detroit. I would also like to mention the car (looks like some variation of Model T Runabout) – obviously the reference to a Detroit's nickname – Motor city and the rise and fall as a world-class industrial powerhouse.
P.S. There is still a chance this is the Michigan mug. Let's wait a see.
Update from 2018-05-01: added the real photo of the front of the mug. Again, this is a sneak peek from factory only, but we can see it was indeed Detroit mug, and not Chicago. More photos will be added soon. Stay tuned.
Update from 2018-07-09: this was the last one to be confirmed to have misprint, see these two pictures below, "Startup city USA" has been replaced by two clouds.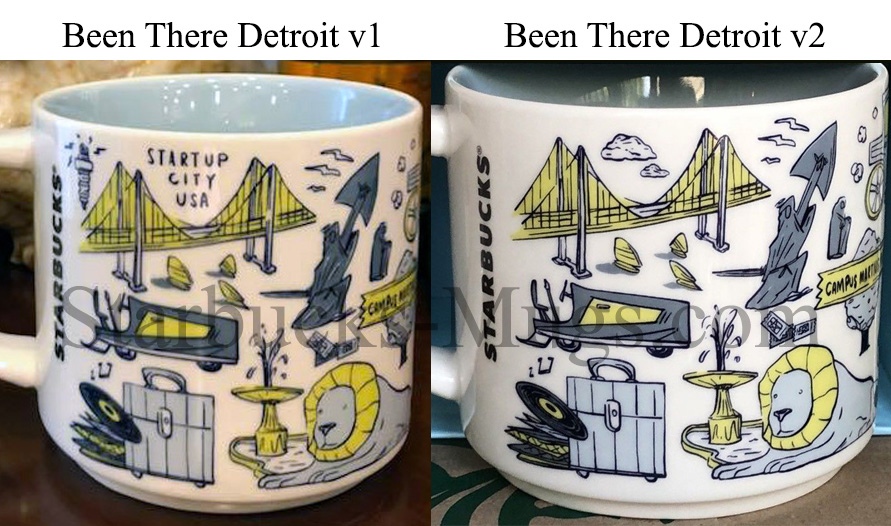 Did you like this mug?