Been There – Korea
Been There collection is expanding pretty fast now. It is becoming obvious that 2020 is a big year for Asia. Been There – Korea mug is a brand new example of that. This release is interesting in a sense that there were no YAH mugs for Korea. Starbucks did have very similar mugs by size, but different design, not related to YAH. I kind of liked those, but still wished for more.
Anyway, here are some highlights of Been There – Korea:
– Hahoetal mask – is a mask used in one of Korea's most traditional folk plays featuring various characters – Hahoe Tal Chum (Hahoe Mask Dance Drama). This particular mask from the mug is Yangban Tal, an arrogant aristocrat mask. Interestingly enough, there are two identical masks on the mug. I wish they placed more characters to show diversity.
– Gyeongbokgung Palace or Gyeongbok Palace was the main royal palace of the Joseon dynasty. It was built in 1395 and went through some rough times during Imjin War, when most of the buildings of the palace were heavily damaged. Abandoned for almost two centuries, it was later restored using the architectural principles of ancient Korea. Unfortunately, the Palace was completely destroyed again during the period of the occupation of Korea by the Empire of Japan (1910-1945). The complex is gradually being restored since then. One day it will regain all of its original beauty. The building on the front of the mug is Geunjeongjeon (Throne Hall) – where the king formally granted audiences. There is also Gwanghwamun Gate on the back. It is the main and largest gate of the palace.
– YTN Seoul Tower a.k.a. The N Seoul Tower, or Namsan Tower – is a 777ft tall communication and observation tower. It is located on the top of Mt. Namsan at the elevation of 797 ft. You can get there by cable car and enjoy nice city views. Make sure to go on a sunny day, otherwise, it will be hard to see anything because of the smog.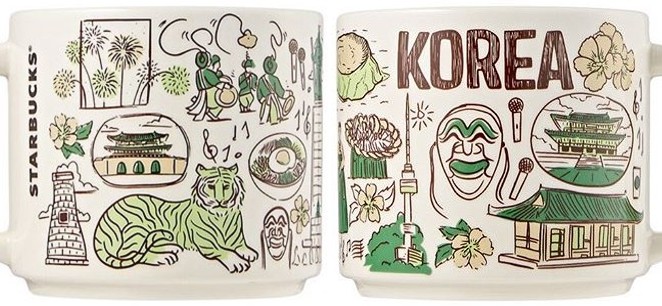 Did you like this mug?