Been There – Maine
Starbucks Been There Maine v1 is not your regular mug. It was neither officially released nor sold in stores. As you probably remember, certain BT State mugs were designed with misprints. Oddly enough those errors hadn't been spotted till mugs arrived at stores. Even then Starbucks managed to sold a bunch of Nebraska v1s before someone have noticed the problem and reported that to head office. Exactly at that moment, Starbucks reviewed all their designs and ordered to pull back and destroy error mugs. Again, it looks like Nebraska v1 is the only one sold to public. Others, and Been There Maine version 1 is among those, haven't hit the shelves. "Where is the photo coming from then?", you may ask. Well, we have couple options here:
– Baristas didn't destroy/return all mugs
– These were sold under the counter
– Direct access to production line
In any case, I doubt many of these exist now. It became HTF from the get-go.
As for the mug and the actual misprint – it's right there on the front of the mug, where it says "Mount Kahtahdin" which is wrong, because the right name of this mountain is Mount Katahdin It's this extra "h", what makes this mug extra rare!
Btw, here is the collage of all sides of the mug for a further review (which is yet to come):



Update from 2018-05-19: added a side-by-side comparison of v1 and v2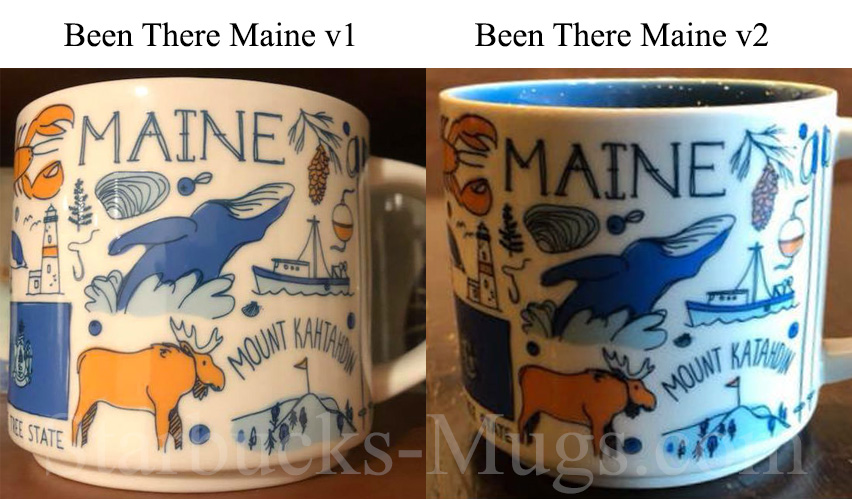 Did you like this mug?