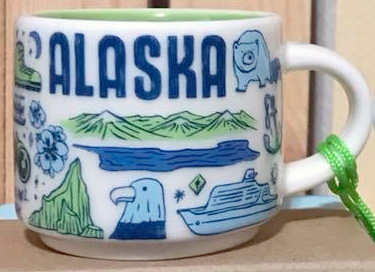 Been There Ornament – Alaska
We have special news today! Definitely earlier than I expected, Starbucks is releasing Been There Ornaments! The first mini mug that has been spotted in stores so far, is Been There Ornament Alaska. My understanding, there will be many more coming out pretty soon. As a reminder, ornaments are usually sold in licensed stores (hotels, grocery stores, airports). So if you are the one, who decided to skip collecting Been There Series, but can't resist ornaments, start checking your Starbucks licensed stores right now!
As a bonus, here's the side by side comparison of Been There Alaska and Been There Ornament Alaska. As I predicted, since there were so many small elements on BT mugs, Starbucks could not just copy and paste all of those from a big mug to a much smaller one. As for Alaska, here are some obvious changes from the front side:
– Salmon and fishing rod are gone
– "Denali national park" words are gone (the map is moved to the back of the mug)
– The ship has been moved to the back
– The Boot and the binoculars are moved to the left
– Bear and Eagle made their appearance on the front
As you can see, the style and colors are kept, it's just certain elements are gone or moved.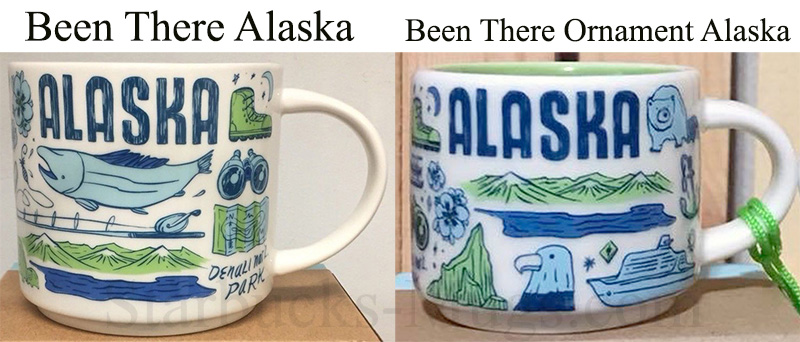 Did you like this mug?