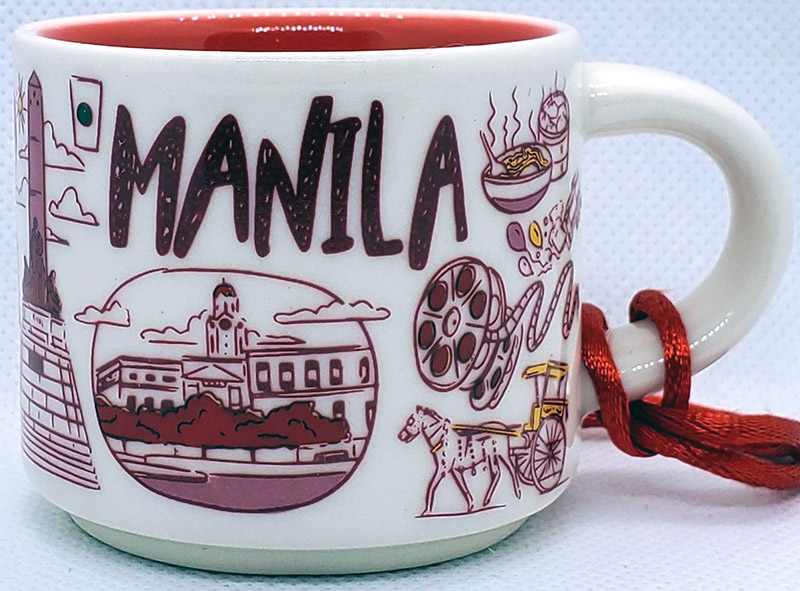 Been There Ornament – Manila
Starbucks Been There Ornament Manila looks similar to the full-size mug and comes with the red string. Manila is the capital of the Philippines and the most densely populated city proper in the world.
The design of the ornament is dedicated to a great mix of the city's architecture that shows a wide range of styles from different historical and cultural periods. While browsing the city, you can notice American, Spanish, Chinese, and Malay influences everywhere.
I would like to mention the Rizal Monument (Motto Stella, "guiding star"). It is a memorial built to commemorate the Filipino nationalist, José Rizal. Not far from the monument, there is an exact place where he was executed, marked by life-size sculptures of him and the soldiers enforcing an order. José Rizal is considered the national hero of the Philippines. He became a writer and a key member of the Filipino Propaganda Movement, which advocated political reforms for the colony under Spain. He was accused by the Spanish colonial government of the crime of rebellion after the Philippine Revolution, inspired in part by his writings, broke out. That eventually led to Philippine independence.


Did you like this mug?