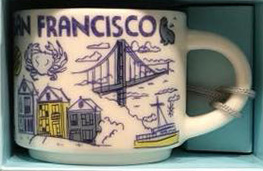 Been There Ornament – San Francisco
I does look like Starbucks hasn't released as many city BTOs as city BTs, but hopefully there will be the second batch soon. Starbucks Been There Ornament San Francisco is one of those released already. From the mug:
– The Golden Gate Bridge is a suspension bridge spanning the Golden Gate, that's where San Francisco Bay meets the Pacific Ocean. This bridge is probably one of the most recognizable symbols of San Francisco.
– The Dungeness crab – is a type of crab specific to West Coast of North America – a must try when visiting San Francisco due to its sweet and tender flesh.
– old houses on the steep street – San Francisco is well known for it's hills and steep streets!
Did you like this mug?