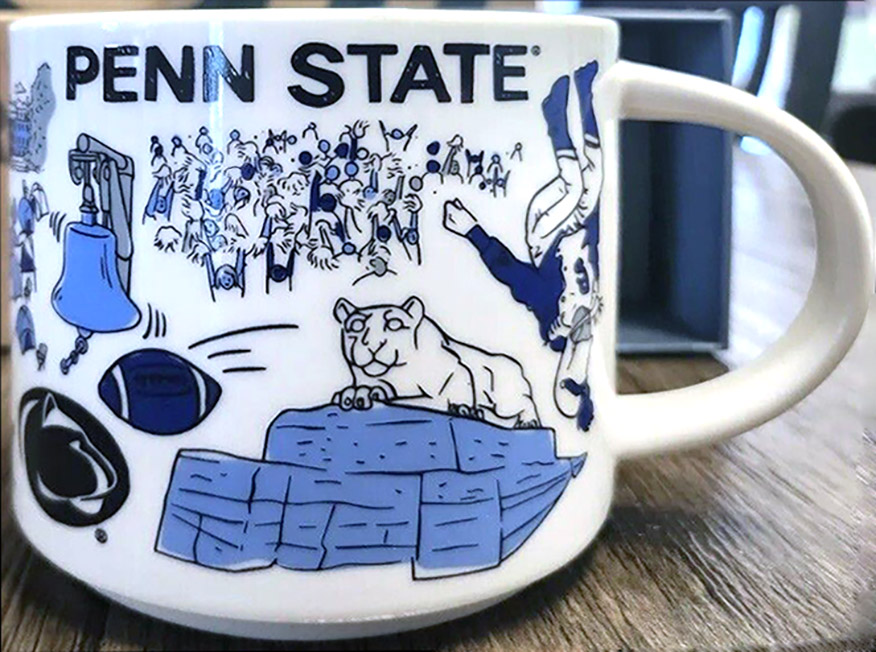 Been There – Penn State
The Campus Collection is expanding with the release of Starbucks Been There Penn State mug. It has been available in stores within the University Park campus since spring now, so you you should be able to find it when in town.
Penn State University, located in State College, Pennsylvania, is a renowned institution known for its strong academic programs, vibrant campus life, and passionate community. With a rich history spanning over 150 years, Penn State offers a wide range of undergraduate and graduate programs across various disciplines, including business, engineering, liberal arts, and health sciences. The university boasts world-class faculty who are dedicated to providing students with a top-notch education and preparing them for successful careers.
Here are some symbols of the PSU that were used in the design of the mug:
– The Nittany Lion Shrine, an iconic symbol of Penn State University, stands as a majestic sentinel on the picturesque campus of "Happy Valley." Crafted from a single block of limestone in 1942, this impressive statue pays homage to the mountain lion that once roamed Mount Nittany. With a height of over 8 feet and a weight exceeding 13 tons, the shrine embodies the university's history, traditions, and unity. As a cherished gathering place for students and alumni, the shrine is a canvas for countless memories, celebrations, and reflections. Its steadfast presence radiates inspiration, resilience, and the enduring spirit of Penn State.
– On the similar page, Nittany Lion is also University's mascot. A symbol of strength, courage, and resilience, the Nittany Lion pays homage to the university's location in the Nittany Valley and its rich athletic tradition. With a captivating presence, the mascot energizes crowds and rallies support at sporting events and campus activities, uniting students, alumni, and fans under the Penn State banner.
– Speaking of the valley, Penn State's idyllic location in Central Pennsylvania is often referred to as "Happy Valley", a name that aptly captures the serene beauty and joyous spirit that envelop the region. The campus exudes an undeniable sense of warmth and belonging, making it a haven for those seeking not only education but also a unique lifestyle. The term "Happy Valley" is more than just a geographical descriptor—it's a feeling that resonates with anyone fortunate enough to experience life within its boundaries.
– A Rallying Cry "We Are Penn State" is more than just a slogan; it is a rallying cry that unifies the Penn State community. Originating from a spontaneous chant during a 1947 football game, these three simple words have become the essence of Penn State's identity. "We Are Penn State" encapsulates the unity, strength, and resilience of the university, reminding every member of the community that they are part of something greater.
– The Penn State Nittany Lions, known as one of the most iconic collegiate sports teams, represent the indomitable spirit and fierce competitiveness of Penn State University. With a rich history and a legacy of athletic excellence, the Nittany Lions dominate on the field, court, and ice. Their dedication, teamwork, and unwavering determination have led to numerous victories and championships, earning them the respect and admiration of fans across the nation.
– The Penn State Blue Band, established in 1899, is an integral part of the vibrant Penn State University community. Renowned for their electrifying performances and unparalleled talent, the Blue Band is a symbol of musical excellence and school spirit. With their signature blue and white uniforms, they bring energy and excitement to every football game, captivating the crowd with their powerful music and precision marching. You can see one of the Blue Band members performing a flip on the front of the mug.


Did you like this mug?