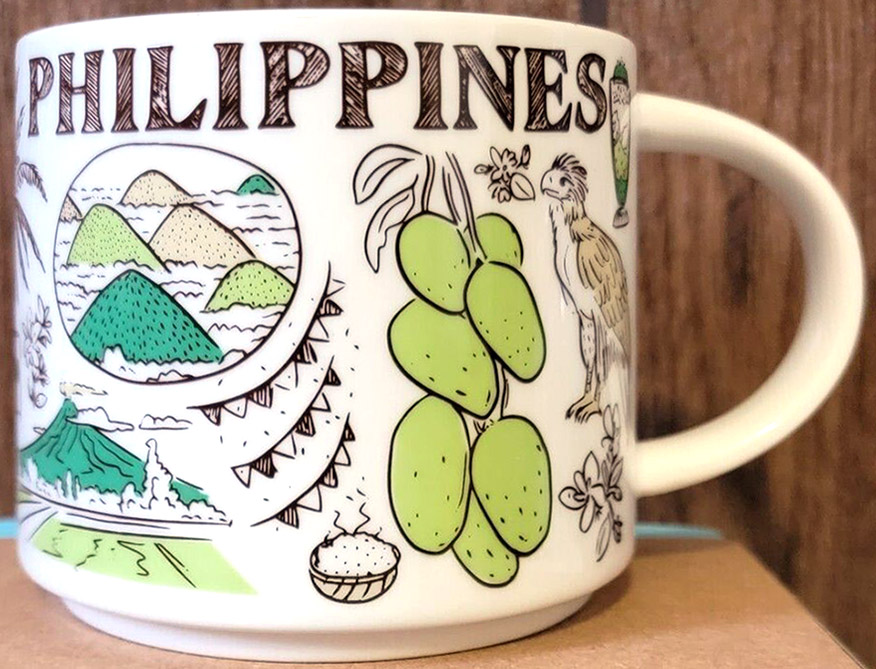 Been There – Philippines
BT Collection is making a spectacular appearance to Republika ng Pilipinas with seventeen mugs and four ornaments! And yes, Been There – Philippines is the first one in the list. Are you ready for that?
Here are some key elements from the front of the mug. Big thanks to a local reader, who provided the list:
– Coconut Tree (1) – the Philippines is one of the world's largest producers of coconuts and related products. Pretty much every part of the tree can be used for something, from the top of its leaves to the bottom of its roots and surely the fruit itself. By the way, did you know that the latter is rather a drupe (like peach) and not a nut?
– Mayon Volcano (2) – is a 8,077 feet tall active volcano in the province of Albay in the Bicol Region. One may call it "the world's most perfect volcanic cone" because of the symmetry of its shape.
– Chocolate Hills (3) – is a must-see location in the middle of the island of Bohol. The name comes from the cone-shaped hills that turn brown during the dry season (and look like chocolate kisses). It is estimated that there are between 1200 to 1500 of those in the area of 40 square miles.
– Banderitas / (Fiesta Flags) (4) – is a popular street decoration during celebrations of any kind.
– The bowl of steamed rice (5) symbolizes the importance of this staple food for Filipinos which sometimes represent 30%-40% of their daily calorie consumption.
– Philippine Green Mangoes (6) are picked as they are ripening. This gives them a distinctive taste.
– The Philippine Eagle (7) a.k.a. the monkey-eating eagle or Great Philippine Eagle is endemic to forests of the Philippines. And since this great bird is on the verge of extinction a foundation was established to try to save it.
– Waling-Waling (8) is a flower of the orchid family which is considered to be the "Queen of Philippine flowers"
– Sampaguita (9) – is the National Flower of the Philippines which symbolizes purity, simplicity, and humility. It is known in Europe and America as Arabian jasmine.

Did you like this mug?