Been There – Toronto
There were some fears that the new Been There series is just a hoax. Well, probably not, since I've just discovered two new pics of the new collection. Even though these are of a very low quality it makes me believe these new mugs are real.
As we can see it really looks like hand drawn design, imagine it was a kid drawing it. I can tell you right away, the initial reaction of muggers is definitely not positive, but let's see what it looks like in real life, it's too early to judge.
The new series design has many more elements included compared to YAH. On this particular mug, Been There – Toronto, we can see Old City Hall, Toronto Islands, The flag of Toronto, Maple leaves, snowmobile, mittens, a sculpture (to be identified). All that is just a portion of the front of the mug. Pretty much there is no free spot left.
Again, let's wait and take a better view when mug hits the stores.
Update from 2018-04-01: it was revealed that Starbucks posted previews of new Canadian BT mugs on Pinterest. I am adding those to this post and you can now compare these new ones with old picture we had: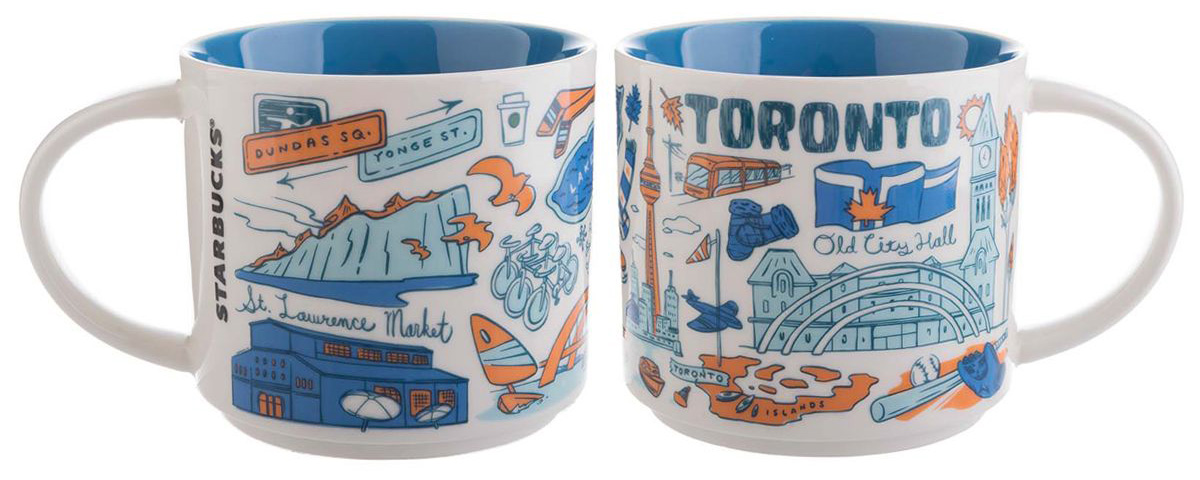 We're still missing the picture of the "middle" side of the mug, yet as you can see some elements are gone or moved.
Did you like this mug?