Been There – University of Missouri
The latest addition to the Campus Collection is Starbucks Been There – University of Missouri mug, designed using black and "MU Gold" colors. The latter, as you could guess, is an official custom color of the University.
The University of Missouri (Mizzou, MU, or Missouri) is a public university located in Columbia. When founded in 1839, it was the first public university west of the Mississippi River. As many as 30,000 students enroll in more than 300-degree academic programs at Mizzou, each year.
The front of the mug features the logo of the MU campus and also a UM Seal, the only official logo of the University of Missouri System. Three other campuses of UM System are located in Kansas City, St. Louis, and Rolla. We can see the official motto of the University on the seal: "Salus Populi suprema lex esto" which means "Let the welfare of the people be the supreme law" in Latin.
Another element on the front of the mug is Jesse Hall, which is the main administration building of the MU. One of the most distinctive features of the hall is its 180 ft dome, which is actually higher than the building itself. Jesse Hall was in fact built to replace Academic Hall, the original main building of the MU, that was destroyed in a fire in 1892. After the fire, only six columns were left standing. These are known as The Columns, today, and are one of the most recognizable symbols of the MU. They are constantly at the center of events including graduations, concerts, public performances, etc., and almost always can be seen in the photographs of the University. The Columns are also a part of the design of the mug, you can see them just below the title, with the banners between them.
Truman the Tiger is the official mascot of the athletic teams of MU. Truman is named after U.S. President Harry S. Truman, who was a Missourian.
One of the elements on the back of the mug is the Bell Tower of Memorial Union. Memorial Union honors MU men who lost their lives in service during WWI and WWII. Their names are inscribed on the inside walls of the tower archway. As a tradition, every student speaks in a whisper under the archway.
Last but not least is the waterfall and pool at Tiger Plaza with life-size, bronze Bengal Tiger. It is MU's newest landmark.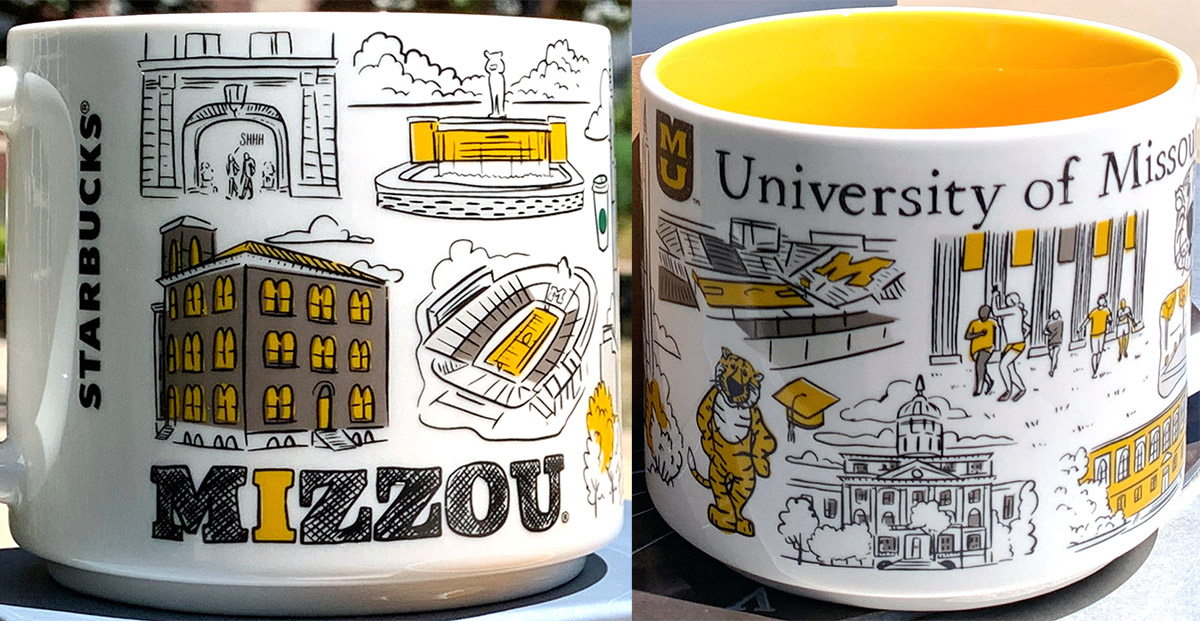 Did you like this mug?