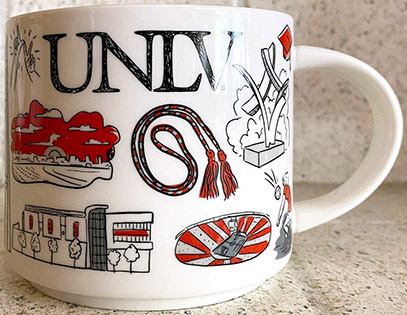 Been There – UNLV
Here is the Starbucks Been There – UNLV mug that was released for the University of Nevada, Las Vegas this week. It makes it the sixth mug from the Campus Collection
UNLV was officially founded as the Southern Division of the University of Nevada, Reno (UNR) on September 10, 1957, with the first classes starting in 1959. It changed its name to Nevada Southern University in 1965. As the university grew it gained equal status with its parent from Reno (UNR) and it was decided to change the name once again to the present one. With that being said, there is a chance we gonna see the release of the UNR mug later in the future, but only time will tell.
Here are just a few elements that I was able to identify on the mug:
– The Talisman (to the right of the title) is a metal sculpture, created by Kevin Robb in 1990. If you decide to see it for yourself and decipher the letters "U-N-L-V" that are hidden in the sculpture, it is located outside the law school, near the clock tower.
– Red and Silver graduation cord. These are colored ropes with tassels on each end that are worn around the neck during commencement ceremonies.
– UNLV's clock tower, which chimes the "Westminster" tune every half hour (except at night) is located between the law school building and Tam Alumni Center
– UNLV is most known for its men's basketball program (basketball ball on the back of the mug) and golf program (golf carts at the top of the back). The latter has turned out many PGA Tour pros.
Big thanks to the reader of our blog for the pictures of the mug.


Did you like this mug?