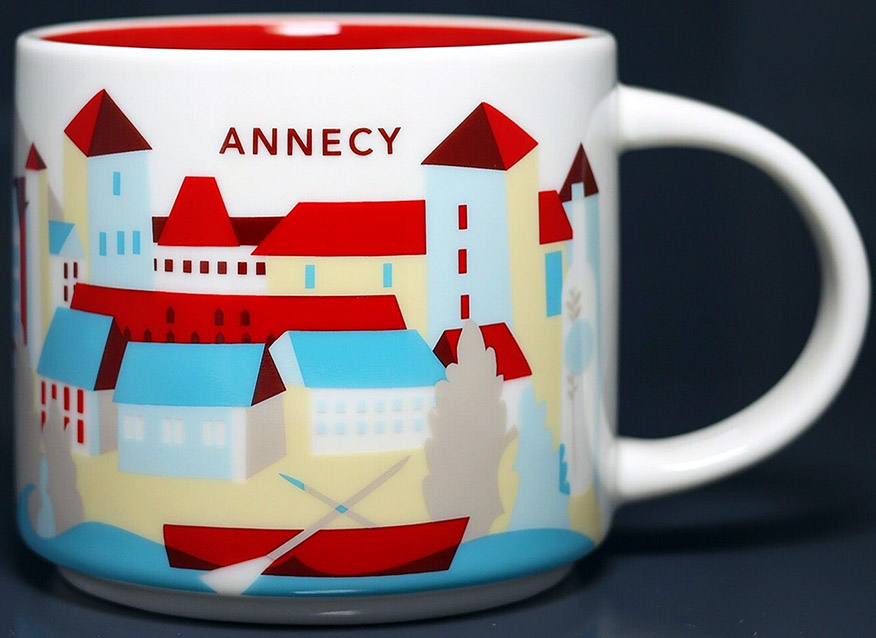 You Are Here – Annecy
The latest release from this summer's French trio is Starbucks You Are Here Annecy mug. Similar to the Metz mug, this one has a very nice design, featuring bright colors. I am happy to see that Starbucks still values the appeal even though these seem to be one of the last mugs from this collection.
Nestled within the heart of the French Alps (near the borders of Switzerland and Italy), Annecy is a picturesque city that effortlessly combines history, culture, and natural splendor. Known as the "Venice of the Alps," Annecy is a captivating destination that beckons travelers with its charming canals, stunning lake, and rich heritage.
Here are some points of interest according to the design of the mug:
– Lake Annecy: The stunning Lake Annecy is a focal point of the city. Surrounded by mountains, the crystal-clear waters of the lake offer a range of water activities, from swimming and sailing to paddle boarding and kayaking.
– Château d'Annecy: This medieval castle, perched atop a hill overlooking the city, is a symbol of Annecy's rich history. It now houses the Annecy Castle Museum, which showcases the city's heritage through art and artifacts.
– Old Town (Vieille Ville): Annecy's Old Town is a labyrinth of charming streets, adorned with colorful buildings, boutiques, and cafes. The Palais de l'Île, a former prison, is a unique architectural gem located in the heart of the Old Town.
– Palais de l'Île: This iconic building, once a fortress and a prison, now serves as a museum that explores Annecy's history and architecture. It is situated on an island in the Thiou River and is a symbol of the city's heritage.
– Pont des Amours: Translating to "Lovers' Bridge," this romantic pedestrian bridge offers breathtaking views of Lake Annecy and the surrounding mountains.

Did you like this mug?