You Are Here – Bilbao
Starbucks You Are Here – Bilbao is the mug for the city in northern Spain, a de facto capital of the Basque Country.
The design of the mug is pretty simple, showing us the skyline of the city surrounded by water. While Bilbao is a seaport, what we see here, is the estuary of Bilbao which connects the city to Bisque Bay. There are two small mountain ranges with an average elevation of 1300 ft surrounding Bilbao, those can be seen on the mug as well.
Another landmark which is definitely worth to be seen is Vizcaya Bridge over Nervion River, which connects the towns of Portugalete and Las Arenas. Another unofficial name is Puente Colgante (literally "hanging bridge"). It was declared a World Heritage Site by UNESCO and there is no doubt that it is one of a kind. It is basically two towers on the opposite sides of the river connected with the upper crossbeam which lies horizontally about 140ft above the river. Then there's the 36-wheeled cart which moves along the rails and the beam. The gondola, in its turn, is attached to the cart by cables. This construction allows for bigger ships to move along the river without much interruption. It is the first time I am seeing this kind of the bridge and I believe taking a ride in that gondola would be an unforgettable experience when visiting Bilbao.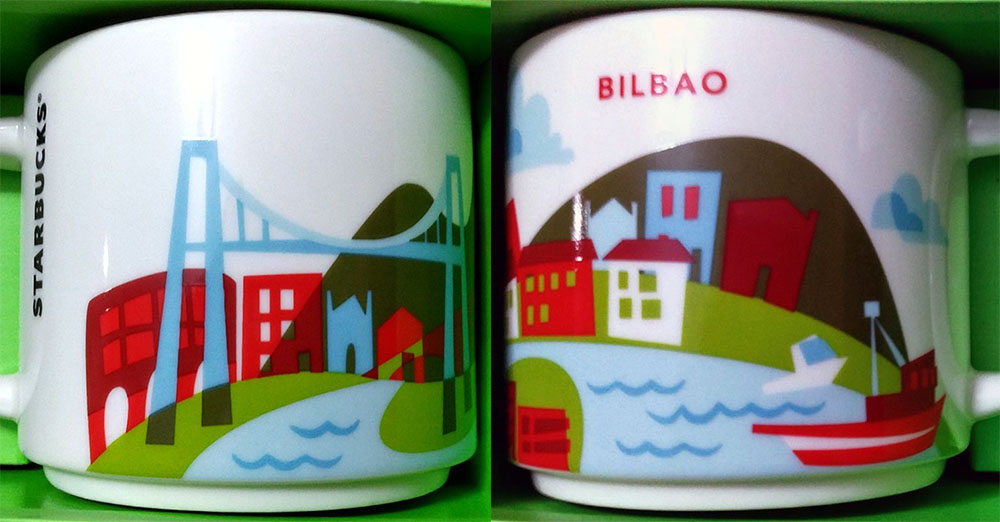 Did you like this mug?