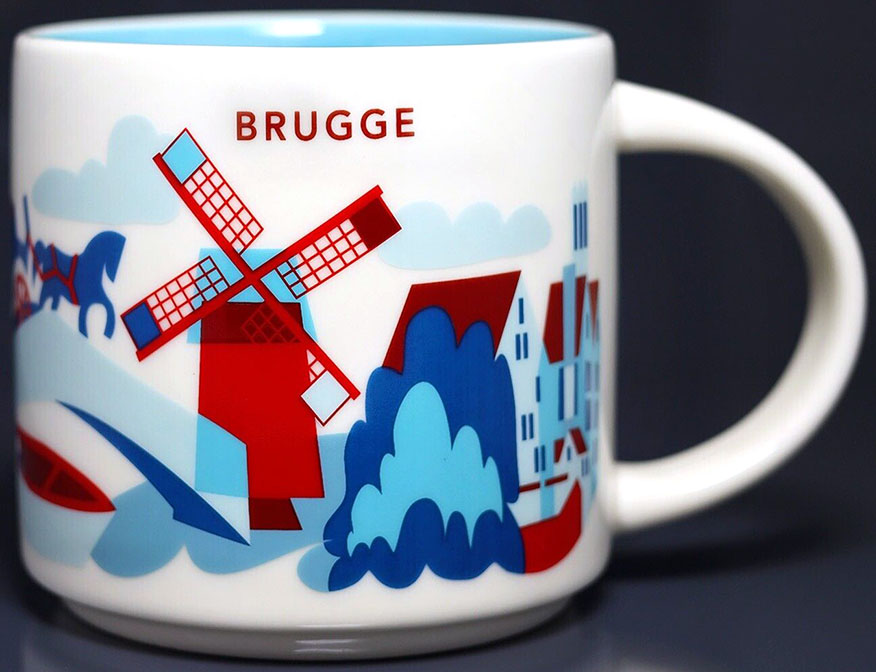 You Are Here – Brugge
It was quite some time since we saw the last European city being released within YAH series. That's what makes today's news more exciting because it's You Are Here – Brugge mug which has been spotted in Belgium this morning.
When you look in the google trends for the word "Bruges", there was definitely a spike in interest in 2008, that's when the movie "In Bruges" came out. To be honest with you, I've never heard about this city before that movie and I believe this applies to many people to the West of the Atlantic ocean. But while that show is a "dark comedy", the design of the mug is bright and colorful. I would like to mention two of its elements:
– windmill – there are still 4 of them remaining in Bruges: Koeleweimill, Nieuwe Papegaai, Sint-Janshuismill, and Bonne Chieremolen. All 4 are located between Kruispoort and Dampoort city gates of Bruges along the channels that surround the old city center.
– wheel of cheese (on the back) – Belgium is famous for its cheeses in general. I could not find any peculiarity for Bruges though.

Did you like this mug?