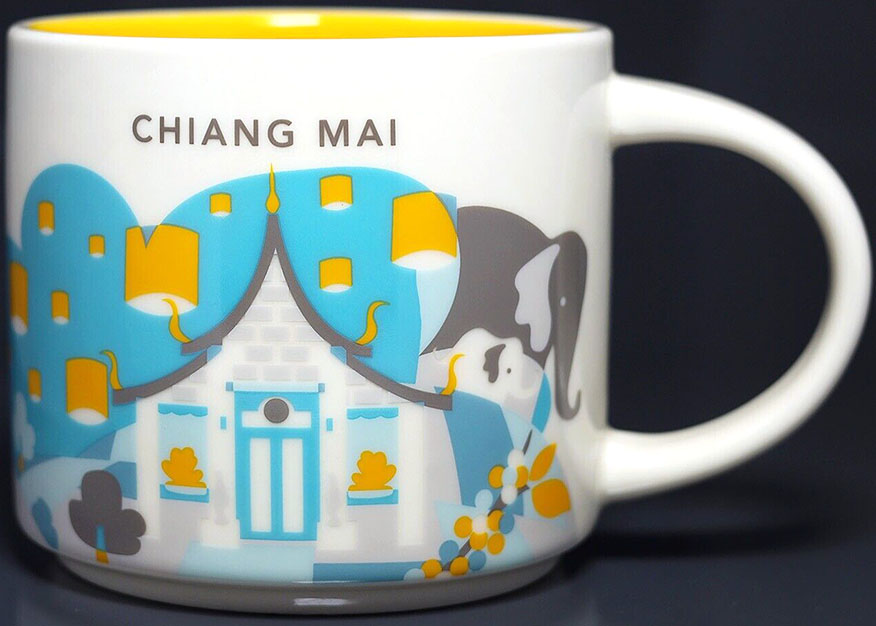 You Are Here – Chiang Mai
Starbucks You Are Here Chiang Mai mug was recently released together with Samui. These two make a great addition to your collection of Thailand mugs.
Chiang Mai is a captivating city nestled in the mountainous region of northern Thailand. It is known for its rich cultural heritage, stunning natural landscapes, and warm hospitality. As the country's cultural capital, Chiang Mai offers a unique blend of ancient temples, vibrant markets, lush mountains, and a relaxed atmosphere. Whether you're an adventure seeker, a history enthusiast, or simply looking to immerse yourself in Thai culture, Chiang Mai has something to offer everyone.
The name "Chiang Mai" translates to "New City," although its founding dates back to 1296. The city is home to over 300 temples, showcasing exquisite Lanna architecture and Buddhist art. Chiang Mai has a pleasant tropical climate, with cooler temperatures compared to the rest of Thailand.
Here are some points of interest that I was able to spot in the design of the mug:
– Wat Phra That Doi Suthep: This iconic mountaintop temple is a must-visit attraction. Adorned with intricate golden details, it offers breathtaking panoramic views of the city below.
– Old City: Enclosed within ancient walls and moats, the historic Old City is a treasure trove of temples, bustling markets, and traditional Thai architecture. It's an ideal place to explore on foot or by bicycle.
– Night Bazaar: A vibrant shopping extravaganza, the Chiang Mai Night Bazaar is renowned for its handicrafts, souvenirs, clothing, and delicious street food. It's a bustling hub of activity that comes alive after sunset.
– Doi Inthanon National Park: Located about 60 kilometers west of Chiang Mai, this national park is home to Thailand's highest peak, Doi Inthanon. Visitors can explore stunning waterfalls, hiking trails, and visit hill tribe villages.
– Elephant Nature Park: For an ethical and unforgettable elephant encounter, the Elephant Nature Park provides a sanctuary for rescued elephants. Here, you can learn about their conservation efforts and observe these majestic creatures in their natural habitat.

Did you like this mug?