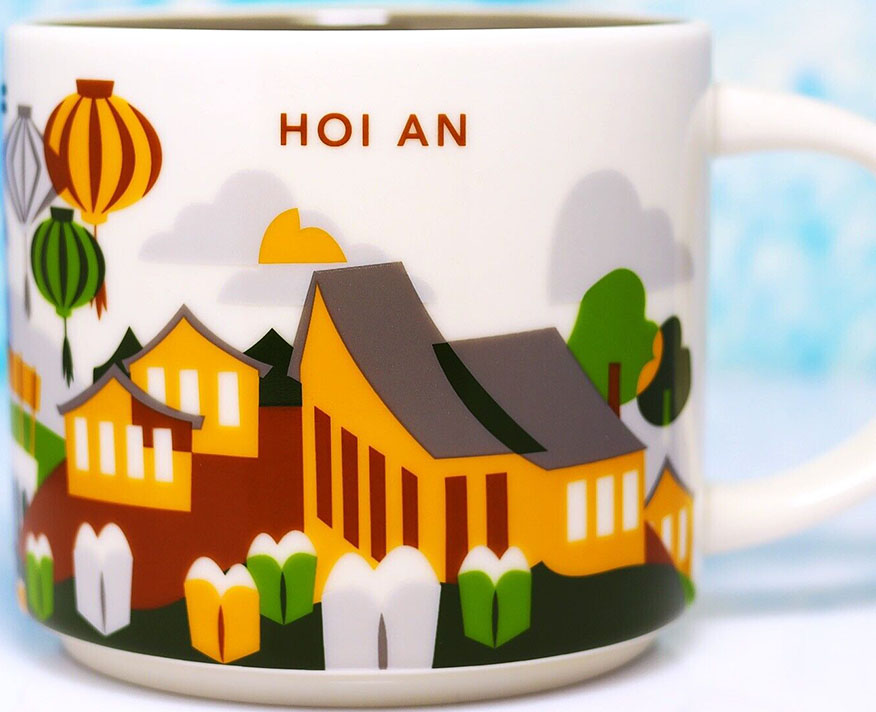 You Are Here – Hoi An
Starbucks You Are Here Hoi An mug came out in 2022, almost two years after the release of the country mug from the Been There series! And don't get me wrong, I am not complaining, but am rather surprised. Together with the matching ornament, the new mug is available at the brand new store opened just a block away from Hoi An's Old Quarter.
Nestled along the central coast of Vietnam, Hoi An is a captivating town that effortlessly combines the allure of ancient history with a vibrant modern-day spirit. With its well-preserved architecture, cultural heritage, and enchanting riverside setting, Hoi An is an unmissable destination for travelers seeking an authentic glimpse into Vietnam's rich past.
From the historical point, Hoi An served as a prominent trading port from the 15th to the 19th century, attracting merchants from various parts of the world, including China, Japan, and Europe. The town showcases a blend of architectural styles, including Chinese, Japanese, French, and Vietnamese, creating a visually captivating atmosphere. Hoi An's Ancient Town was designated as a UNESCO World Heritage Site in 1999 for its well-preserved historical architecture and unique fusion of indigenous and foreign influences.
Here are some symbols and places to visit when in Hoi An:
– Hoi An Ancient Town: Stroll through the narrow, atmospheric streets of the Ancient Town, marveling at the well-preserved buildings, charming storefronts, and ancient temples. The town reflects its prosperous trading past and showcases a fusion of Vietnamese, Chinese, Japanese, and European influences. It is a must-visit destination for history and culture enthusiasts.
– The Japanese Covered Bridge is a renowned symbol of the town's cultural and architectural heritage. Constructed in the 16th century by the Japanese community, the bridge beautifully combines Japanese and Vietnamese architectural elements. It is an iconic landmark with a unique covered structure, adorned with intricate carvings and a small temple at its center. The bridge not only serves as a functional passageway but also holds historical and spiritual significance.
– Lantern Festival: Hoi An is renowned for its monthly full moon lantern festival, locally known as "Hoi An Full Moon Festival," where the streets are illuminated by colorful lanterns, creating a magical ambiance.
– An Bang Beach: Relax on the picturesque An Bang Beach, located just a short distance from Hoi An. Enjoy the soft sand, turquoise waters, and indulge in delicious seafood at beachfront eateries.
– My Son Sanctuary: Embark on a day trip to My Son Sanctuary, a collection of ancient Hindu temples dating back to the Champa Kingdom. Explore the intricate carvings and learn about the region's fascinating history.
– Hoi An Central Market: Dive into the vibrant atmosphere of Hoi An's Central Market. Explore the bustling stalls, sample local street food, and shop for traditional handicrafts, silk products, and tailor-made clothing.
Additionally, rent a bicycle and explore the surrounding countryside, passing by rice paddies, lush green fields, and charming villages. It's a fantastic way to immerse yourself in the rural beauty of the region.

Did you like this mug?