You Are Here – Japan 5 Fall Edition
Breaking news (as it usually happens with the releases from the "Land of the Rising Sun")! You Are Here – Japan 5 – Fall Edition mug continues series of Japanese mugs, ornaments, and tumblers. These were so popular from the get-go, that Starbucks decided to have one version per season, and that's what makes them so special.
This time the mount Fuji is wearing the red clothes which along with the falling multicolored maple leaves on the front of the mug are supposed to symbolize the Fall colors. I think this is a little bit of exaggeration since the slopes of the Mount Fuji are mostly covered with сoniferous trees, hence being green all year round. I am definitely being too picky here, as I have to admit Starbucks managed to make this mug look great.
Similar to other mugs from this limited series, designers placed an animal native to Japan, and probably Mount Fuji region, on the front of the mug. This time they chose a cute little squirrel holding an acorn. The back of the mug shows other fluffies – two white rabbits.
Another interesting and special detail about this particular version – it has two suns – the red one on the front of the mug, touching Fuji, and another yellow one on the back.
I wonder if this is the last YAH from Japan, considering that it is being slowly discontinued in favor of Been There Series?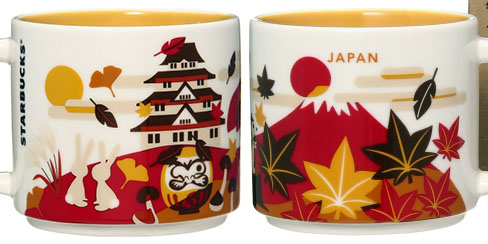 Did you like this mug?