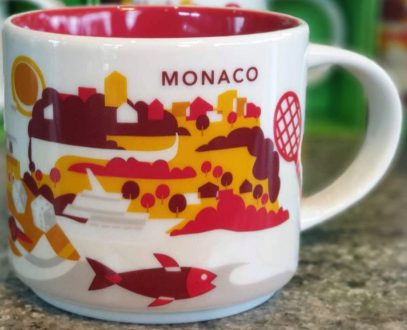 You Are Here – Monaco
Apparently, it has been a couple of weeks since the release of You Are Here – Monaco mug. However, it was only spotted two days ago, thanks to a Facebook user. I made my own quick research and can see some photos from April with this mug behind the counter in one of the Starbucks stores in Monaco. There are only two of those in that tiny country; that explains why it has not been seen earlier. The mug is designed using red and gold shades. There is obviously sea with waves and mountains covered with houses – that's the calling card of Monaco. They've also added tennis racquet symbolizing Monte-Carlo Masters – an annual tennis tournament for male professional players. Interesting enough it is held at the courts of Roquebrune-Cap-Martin, France, a commune that borders on Monaco. That is obviously due to the lack of space within the second-smallest country in the world itself. I've almost missed the silhouette of the yacht on the front of the mug and it's hard to imagine Monaco without those dazzling white ships parked along the coast.
If you're a Formula 1 fan or just love fast cars, you've probably heard about Monaco Grand Prix – one of the most important and prestigious automobile races in the world. Starbucks designers have placed a race car on the side of the mug, to denote that.
The back of the mug is mostly dedicated to the Prince's Palace of Monaco – the official residence of the Sovereign Prince of Monaco. It had been the residence of the Grimaldis for more than seven centuries now.
Last but not least is dice, symbolizing Monaco's casinos and the most famous – the Casino de Monte Carlo. The latter, in fact, is not just a casino but a complex which includes the Grand Théâtre de Monte Carlo, and the office of Les Ballets de Monte Carlo. Interesting fact: until recent years, it was the primary source of Monaco's economy, which began diversifying in the 1990s.


Did you like this mug?