You Are Here Ornament Christmas – Norway
Just recently I've mentioned the release of the new mini mug from this Nordic country and we have its Holiday edition sibling Starbucks You Are Here Ornament Christmas – Norway hitting the shelves. For easier comparison, I've placed this new ornament next to the regular one and there is one interesting detail that I would like to point out. Apart from Holiday symbols added to the design, the shape of the Christmas trees is different on both the front and the back of the mug. Not a huge difference, but it makes it somewhat unique.
If you're planning on getting this ornament, I do suggest you don't delay, as it is a limited edition and there is a big chance it won't be released again next year. The same applies to any Norwegian mugs though, as these are all hard to get.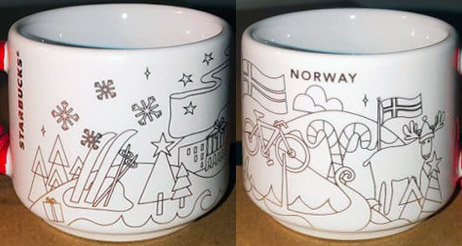 Did you like this mug?