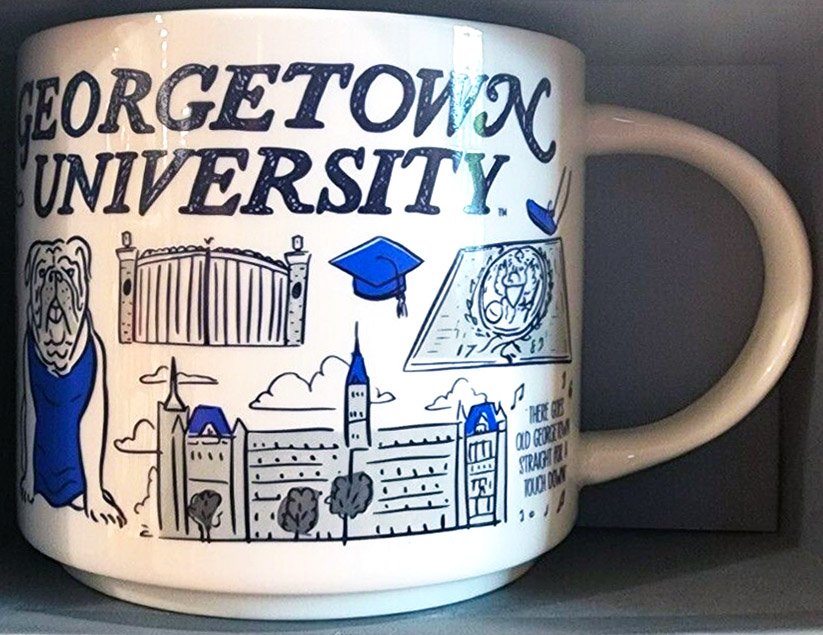 Been There – Georgetown University
Even though Been There – Georgetown University has been already released, I am not seeing a lot of inventory just yet. But that just makes the hunt even more exciting!
Georgetown University is a private research university founded in 1789 as Georgetown College. It is ranked among the top universities in the US, admitting only 10-12% of the applicants each year. Here's an interesting fact, two of Georgetown's students became US presidents later: Bill Clinton and Lyndon Johnson. It is worth mentioning, however, that Lyndon Johnson quit after the first semester.
The front of the mug showcases the flagship building of the main campus, Healy Hall. It serves as the main administrative and reception venue of Georgetown and is a National Historic Landmark.
On the right, we can see the official seal of Georgetown with the year of its foundation on it.
"There Goes Old Georgetown" is the unofficial name of the Georgetown University sports teams' fight song. It's actually a merger of three songs: the Touchdown Song (1913), Cheer for Victory (1915), and The Hoya Song (1930). You can see the first two lines of the chorus to the left of the handle.
Speaking of sports, Georgetown University hosts 23 teams. They are called Georgetown Hoyas. The team name came into use in the 1920s. It is derived from the mixed Greek and Latin chant "Hoya Saxa". You can see the name of this song on the back of the mug.
The athletic teams of the university have both live and costumed mascots, "Jack the Bulldog". We can see him on the front of the mug, and also his paw on the back. Interestingly enough, this is not the first bulldog mascot that we've seen while reviewing the campus collection mugs. Both Fresno State and UGA chose this breed of dog as their mascot as well.
The clock that we see on the back of the mug is related to "Midnight Madness", a tradition where the men's and women's basketball teams can formally practice shortly after midnight on Friday night closest to October 15.
One of the elements that I could not figure out is the pile of pancakes on the plate. Maybe you know what that is? Leave a comment below!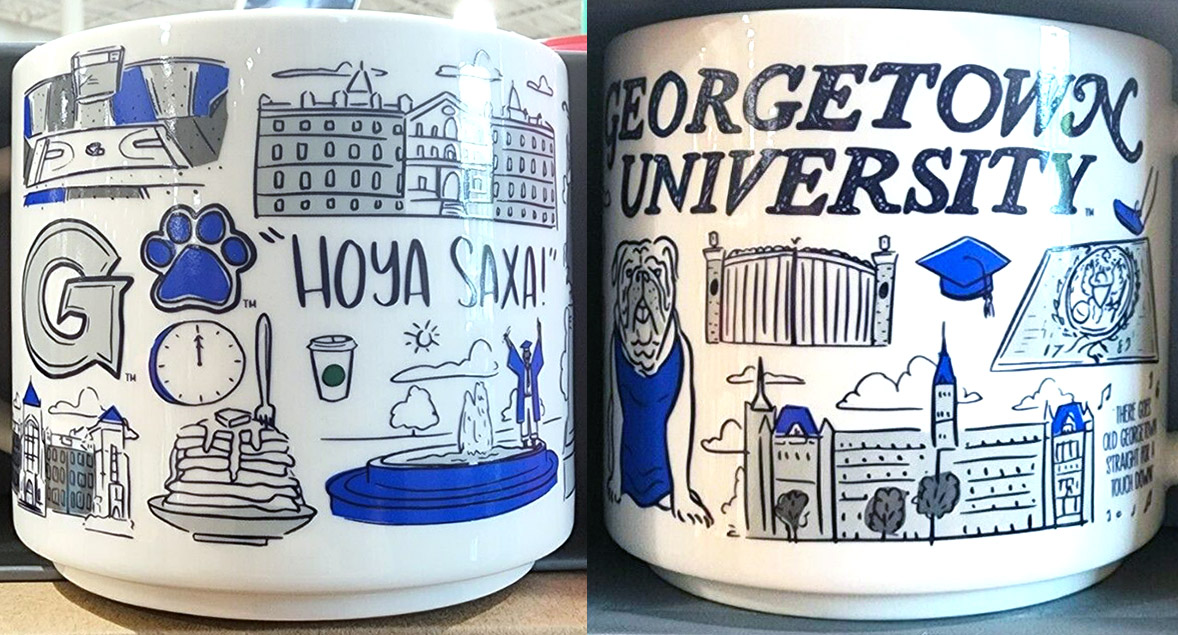 Did you like this mug?