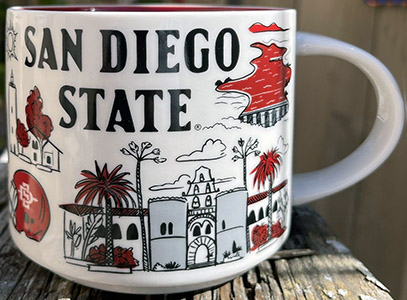 Been There – San Diego State
Starbucks Been There – San Diego State University mug is the second out of four that were planned so far as a part of "Campus Collection" (sub-set of Been There Series).
SDSU is a public research university founded in 1897 as San Diego Normal School and is now accepting around 25k students per year. The front of the mug is featuring Hepner Hall, the iconic academic building in the center of SDSU's campus. The same building can also be seen on the University's official logo.
On the left, there is a picture of Samuel T. Black's statue that is located between Hepner Hall and the Love Library. Black was the first president of the San Diego Normal School between 1897 and 1910. It is believed that rubbing the left foot of the statue brings luck.
The logo on the back of the mug represents San Diego State Aztecs – the athletic teams of SDSU that are competing at multiple sports: six men's and eleven women's.
Interestingly enough, SDSU even has its own pedestrian bridge. It was built over the busy road, to allow safe crossing between campuses. This bridge can also be seen on the mug.


Did you like this mug?