Been There – Texas 3
This is not a regular release, but rather a limited edition mug, that won't be available to the public. Yes, it seems that Been There Texas 3 will be a "very hard to find mug" unless you work for or with Starbucks Texas.
As you can see from the images below, it is drastically different from Texas v1 or Texas v2 (which are almost identical). However, the moment I saw the new mug, I've realized I'd seen this design before. A quick review of the previous releases brought me to Been There Dallas mug. Just look how similar they are (see the comparison picture below). To make it simple, the Starbucks designers took the Dallas mug, changed the color palette, replaced certain elements, and pushed it to production. It seems a very reasonable tactic since this release is a limited edition and they didn't want to use more resources to make a completely unique design.
Here are the elements they've changed in particular:
– "Y'all", a distinctive Southern American English form of a contraction of you and all, gave place to a sandwich (my guess that's a BBQ Steak sandwich, something to definitely try when visiting the Lone Star State).
– The lasso replaced with a croissant and a firepit
– One of the biggest changes on the side of the mug is that the football was made smaller and a "FUTURE of FOOD TEST 2021" slogan fit instead. I could not find any exact match for that on the web, so would really appreciate your comments if you have any information about it.
– The back of the mug has a noticeable update from "BIGGER'N DALLAS" to "BIGGER'N TEXAS", which is used to describe some impossible-to-miss object or event.
Big thanks to a Facebook user for providing the pictures of Been There Texas v3 mug.

Been There Texas v3 vs Been There Dallas comparison, note how similar they are:

Texas v2 vs Texas v3, side-by-side comparison: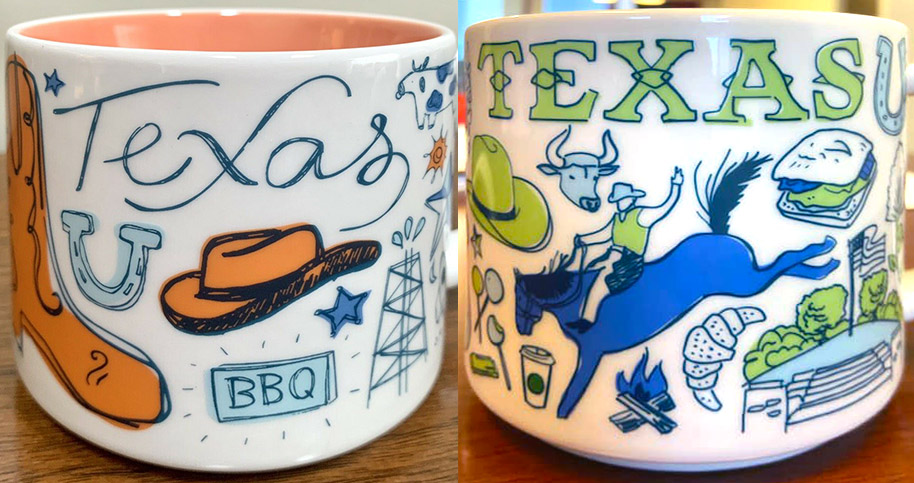 Did you like this mug?