You Are Here – Bayonne
It looks like France is in the spotlight for the remaining releases from the YAH series. I am almost sure these were planned some time ago, but due to production and logistics issues are only appearing now. There are a couple more releases expected, stay tuned for the updates!
Bayonne is a city in Southwestern France, close to the border with Spain. It is part of the Northern Basque Country, a.k.a. French Basque Country (Pays basque français). Please note, that there were two other mugs released for the Spanish Basque Country: Euskadi and Bilbao.
Here are the points of interest and symbols that can be found on the mug:
– Hôtel de Ville de Bayonne – Théâtre Michel-Portal (city hall and theatre) is a neo-classical style building built between 1837 and 1842. There are six statues on the top of the facade representing the economic and artistic activities of the city at that time: navigation, astronomy, industry, art, commerce, and agriculture. I have to say that the designers didn't do the best job depicting the building. For instance, the number of windows does not match.
– The Fêtes de Bayonne is a feria that lasts for 5 days. As with any other feria, it means bullfights, bull running in the streets, outdoor bars, and music. The very first "Fêtes de Bayonne," called "The Big Summer Festival," took place on July 13, 1932, in an attempt to replicate an equivalent activity in Pamplona, well-known for its street running of the bulls. You can see participants of the feria on the front of the mug. Similarly to Pamplona, they are wearing white clothes with a red scarf and a red belt.
– Piment d'Espelette (Espelette pepper) is a variety of chili pepper that is grown in the communities neighboring Bayonne. Introduced to France in 16th, this pepper replaced the black pepper and became a traditional element in Basque cuisine.
– Bayonne is known for its fine chocolates, produced here for many centuries. This is probably why it is considered the Chocolate Capital of France.
– The typical "French beret" is a.k.a. Basque-style beret. It used to be the traditional headwear of Aragonese and Navarrian shepherds from the Ansó and Roncal valleys of the Pyrenees. The commercial production of Basque-style berets began the Oloron-Sainte-Marie somewhere in the 17th century.
Big thanks to blog reader Gigi, for providing the photos of the mug.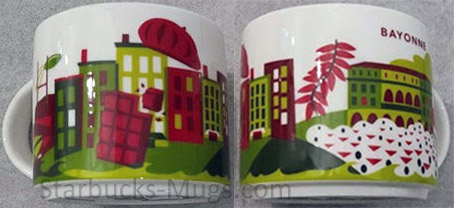 Did you like this mug?