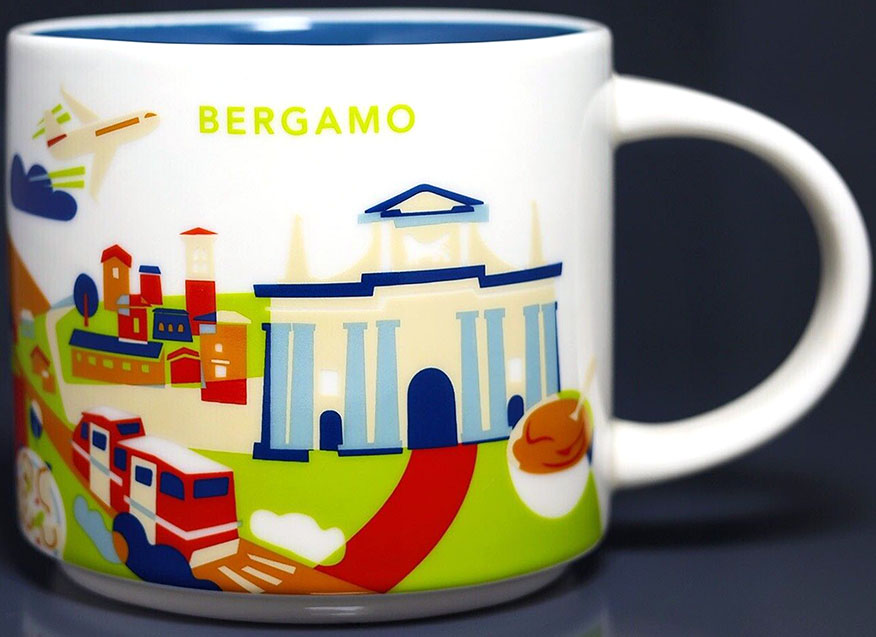 You Are Here – Bergamo
Starbucks You Are Here Bergamo is a colorful mug, dedicated to the Italian city nestled in the picturesque region of Lombardy. The city of Bergamo captivates visitors with its intriguing blend of medieval charm and modern allure. With its rich historical heritage, stunning architecture, and breathtaking landscapes, Bergamo is an enchanting destination that offers a diverse range of experiences. Whether you're a history enthusiast, an art lover, or a nature admirer, Bergamo has something to entice everyone.
Bergamo boasts a history dating back over 2,000 years, with influences from the Celts, Romans, and various medieval dynasties. The city is divided into two main parts – Città Alta (Upper Town) and Città Bassa (Lower Town), connected by a funicular and a network of narrow streets. The population of Bergamo is around 120 000 people, it enjoys a mild, temperate climate, with warm summers and cool winters, perfect for year-round exploration.
Here are some points of interest and thing to do in Bergamo:
– Città Alta (Upper Town): Step back in time as you explore the medieval charm of Città Alta. Encircled by ancient Venetian walls, this UNESCO World Heritage site captivates visitors with its cobbled streets, historic buildings, and panoramic vistas. Don't miss the stunning Piazza Vecchia, the heart of the Upper Town, adorned with the Palazzo della Ragione and the Civic Tower (Campanone).
– Accademia Carrara: Art enthusiasts should not miss the opportunity to visit the Accademia Carrara, an art gallery housing a remarkable collection of Renaissance and Baroque masterpieces. Admire works by renowned artists such as Botticelli, Bellini, Raphael, and Canaletto.
– Basilica di Santa Maria Maggiore: Immerse yourself in the grandeur of the Basilica di Santa Maria Maggiore, a majestic church that dates back to the 12th century. Marvel at its intricate architecture, adorned with beautiful frescoes and intricate marble details.
– San Vigilio: Take a leisurely stroll or a scenic funicular ride to the hilltop fortress of San Vigilio. Enjoy breathtaking views of Bergamo's skyline, the surrounding countryside, and the distant Alps. The fortress also houses a charming restaurant where you can savor local delicacies while soaking in the stunning panorama.
– Explore the Venetian Walls: Embark on a walk along the well-preserved Venetian walls surrounding Città Alta. The scenic promenade offers stunning vistas of the city, lush gardens, and hidden corners waiting to be discovered.
– Indulge in Culinary Delights: Sample the delicious flavors of Bergamo's cuisine, known for its hearty dishes and traditional specialties. Don't miss the famous casoncelli (pasta stuffed with meat), polenta, and the local dessert delicacy, polenta e osei.
– Enjoy the Outdoors: Bergamo is blessed with beautiful natural surroundings. Take a relaxing hike in the nearby Parco dei Colli, a regional park offering lush greenery, walking trails, and panoramic viewpoints.
– Attend Festivals: Experience the vibrant local culture by joining one of Bergamo's festivals. The Festa di Sant'Alessandro

Did you like this mug?