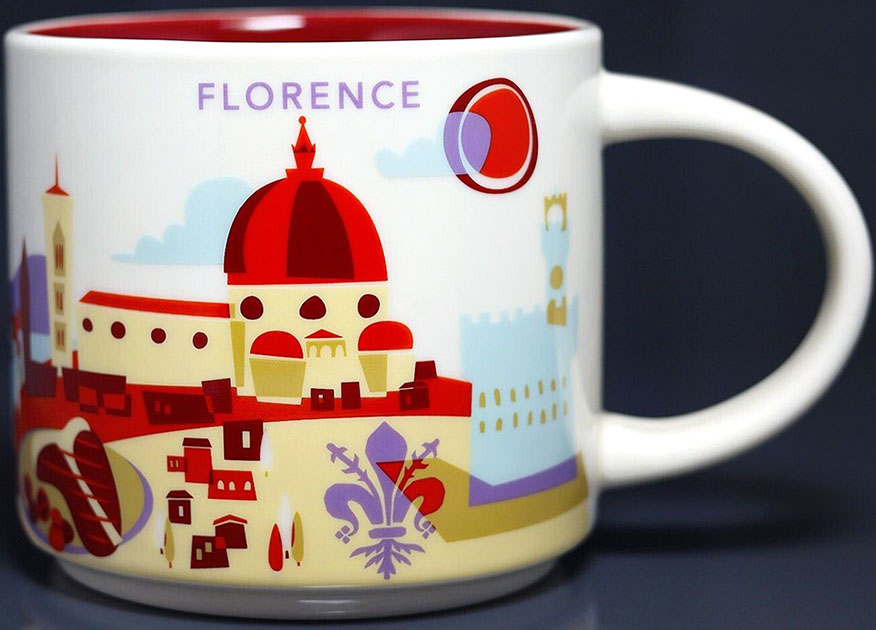 You Are Here – Florence
A beautiful You Are Here Florence mug joins a collection of Italian mugs from Starbucks. I like the purple and red colors used in the design very much.
Florence, the capital city of the Tuscany region, is a magnificent destination that effortlessly blends rich history, breathtaking art, and a vibrant atmosphere. With its centuries-old architecture, world-class museums, and charming streets, Florence has captivated visitors for centuries. Whether you're an art enthusiast, a history buff, or simply looking to immerse yourself in the Italian way of life, Florence offers a treasure trove of experiences.
The city has a population of approximately 382,000 residents, making it the most populous city in Tuscany. Florence is widely regarded as the birthplace of the Renaissance, a transformative period in European history that witnessed an explosion of art, literature, and scientific advancements. The historic center of Florence has been recognized as a UNESCO World Heritage Site since 1982, thanks to its architectural marvels and cultural significance.
Do not miss these points of interest and activities when visiting Florence:
– Florence Cathedral (Il Duomo): This iconic cathedral dominates the city's skyline and features an awe-inspiring dome designed by Brunelleschi. Climb to the top for breathtaking panoramic views of Florence.
– Uffizi Gallery: One of the world's most renowned art museums, the Uffizi Gallery houses an extraordinary collection of Renaissance masterpieces, including works by Botticelli, Michelangelo, and Raphael.
– Ponte Vecchio: A symbol of Florence, this medieval stone bridge spans the Arno River and is lined with charming jewelry shops. Take a leisurely stroll across the bridge, capturing beautiful views along the way.
– Palazzo Vecchio: Located in the heart of Florence's historic center, this imposing fortress-like palace offers guided tours, allowing visitors to explore its lavish rooms and magnificent frescoes.
– Pitti Palace and Boboli Gardens: Once the residence of the influential Medici family, the Pitti Palace is now home to several museums. Adjacent to the palace, the Boboli Gardens enchant visitors with their stunning Renaissance landscaping and breathtaking sculptures.
– Discover the Accademia Gallery: Marvel at Michelangelo's iconic statue of David, housed within the Accademia Gallery. Admire other notable sculptures and paintings by renowned artists.
– Wander through Oltrarno: Cross the Arno River to explore the Oltrarno district, known for its bohemian atmosphere, artisan workshops, and delightful eateries.
– Indulge in Florentine Cuisine: Treat your taste buds to traditional Florentine dishes, such as bistecca alla Fiorentina (Florentine steak) and ribollita (a hearty vegetable soup). Pair your meal with a glass of local Chianti wine.
– Take in the Views from Piazzale Michelangelo: Climb up to Piazzale Michelangelo, a hilltop square that offers breathtaking panoramic views of Florence. Capture stunning sunset vistas or enjoy a romantic evening stroll.
– Explore the Bargello Museum: Delve into the world of Renaissance sculpture at the Bargello Museum, which houses an exceptional collection including works by Donatello and Michelangelo.


Did you like this mug?