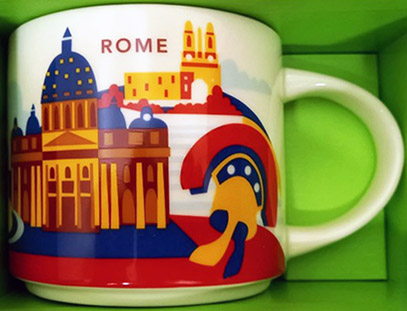 You Are Here – Rome
Here's an interesting release from Italy! Starbucks You Are Here – Rome makes it the fourth mug from this country (after Italy, Milan and Turin).
Similar to other Italian mugs, this release was timed to the opening of the new Starbucks store, this time in Rome. After doing some small research, I can see that it was supposed to be opened back in 2020, then in 2021. Two years later, this finally has happened yesterday (April 7, 2022). I really wonder what is the date on the bottom of the mug, since it might very well be 2020. Whoever has the mug on hand, please let us know in the comments!
The design of this new release is plain and simple and features the following elements:
– St. Peter's Basilica is located in the Vatican (the smallest independent state in the world)
– Trinità Dei Monti – a late Renaissance church. It dominates at the top of Scalinata di Spagna (Spanish Steps), which is a very photogenic and popular touristic attraction
– The Colosseum is the largest ancient amphitheater ever built. It is also known as the Flavian Amphitheatre since the construction was done under the rule of three emperors from the Flavian dynasty.
– Trevi Fountain is one of the most famous fountains in the world. It was constructed between 1732 and 1762 in the Baroque style. Interestingly enough, a portion of The Palazzo Poli, the palace that we can see in the background, was demolished to give space for the fountain.
– Lupa Capitolina (the Capitoline Wolf) is a well know bronze sculpture depicting a scene with Romulus and Remus from the legend of the founding of Rome.
– Soccer ball is meant to emphasize how popular this game is in Italy. The Italy national football team is considered to be one of the best in the world.
– Spaghetti doesn't have to be presented. It is obviously very popular in Italy and comes in many forms. Here are a couple of spaghetti facts that I didn't know (shame on me):
the name of the spaghetti comes from "spago", meaning "thin string";
a thicker form of spaghetti is called "spaghettoni", while a very thin spaghetti is "capellini"
– Galea (helmet) on the front of the mug belongs to a Roman soldier. These came in numerous forms and designs and are now symbols of the ancient Roman Empire.

Did you like this mug?