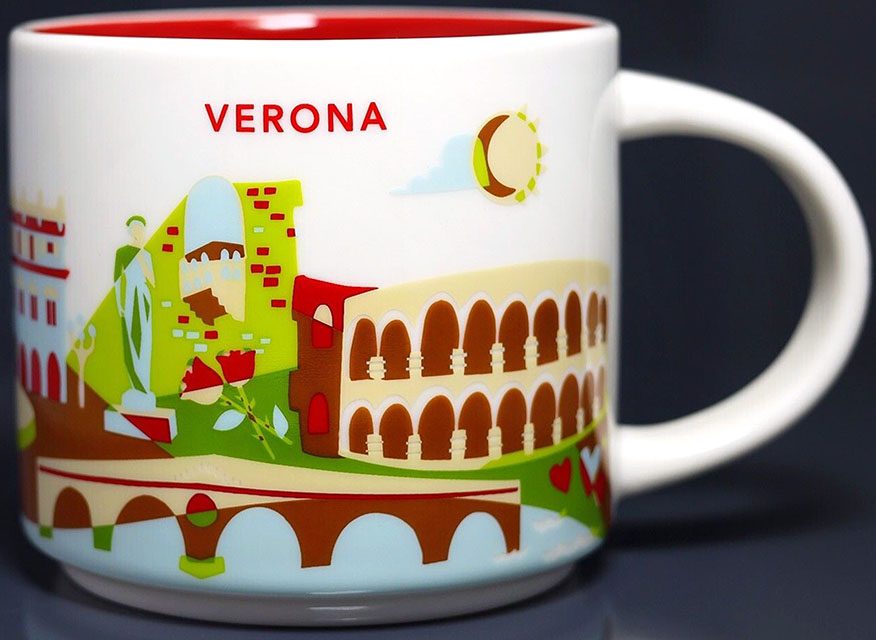 You Are Here – Verona
Here is the latest (so far) release from Italy. Starbucks You Are Here Verona mug features a beautiful design inspired by the Timeless Gem of Italy. Verona, the charming city nestled in the heart of northern Italy's Veneto region, is a place where history, romance, and art seamlessly blend. With its rich heritage, stunning architecture, and vibrant cultural scene, Verona has captivated the hearts of travelers for centuries.
The city boasts a long and storied history dating back over 2,000 years. It was a significant Roman settlement and later became a prosperous medieval city-state. Verona's historic center was recognized as a UNESCO World Heritage Site in 2000 for its remarkable architectural and urban ensemble. Verona is home to around 260,000 residents, making it the second-largest city in the Veneto region.
The design of the mug suggests the following points of interest worth your attention in Verona:
– Verona Arena: Undoubtedly one of Verona's most iconic landmarks, the Verona Arena is a remarkably preserved Roman amphitheater that dates back to the 1st century AD. Today, it serves as a magnificent open-air venue for concerts, operas, and theatrical performances.
– Juliet's House: Located in the heart of Verona, Casa di Giulietta (Juliet's House) is a popular tourist destination. The legendary balcony is said to be the inspiration for Shakespeare's Romeo and Juliet. Visitors can leave love notes on the walls and admire the statue of Juliet in the courtyard.
– Piazza delle Erbe: This bustling square is the vibrant heart of Verona. Surrounded by medieval buildings, it hosts a lively market where you can find fresh produce, local delicacies, and souvenirs. Enjoy a cup of coffee at one of the many cafés and soak in the lively atmosphere.
– Castelvecchio: Standing proudly on the banks of the Adige River, Castelvecchio is a medieval castle and fortress. It now houses an art museum that displays an impressive collection of Renaissance masterpieces, including works by Titian, Veronese, and Mantegna.
– Ponte Pietra: This ancient Roman bridge spanning the Adige River offers breathtaking views of Verona. Originally built in the 1st century BC, it was reconstructed after being destroyed during World War II.
There are more things to do in the city and surroundings:
– Explore the Historic Center: Take a leisurely stroll through Verona's historic center and get lost in its narrow, winding streets. Admire the medieval architecture, discover hidden gems, and immerse yourself in the city's enchanting atmosphere.
– Attend an Opera Performance: If you have the opportunity, experience the magic of an opera performance in the Verona Arena. The acoustics and grandeur of the amphitheater create a truly unforgettable experience.
– Visit Verona's Churches: Verona is home to several magnificent churches, such as the Basilica of San Zeno Maggiore and the Duomo di Verona. Marvel at their beautiful frescoes, sculptures, and architectural splendor.
– Taste Veronese Cuisine: Indulge in the flavors of Verona by savoring the city's traditional cuisine. Try local specialties such as risotto all'Amarone, pastissada de caval (horse meat stew), and pandoro, a delicious Christmas cake.
– Day Trip to Lake Garda: Verona's proximity to Lake Garda, one of Italy's most stunning lakes, makes it an ideal base for a day trip. Enjoy the picturesque scenery, take a boat ride, or explore charming lakeside towns like Sirmione and Bard

Did you like this mug?