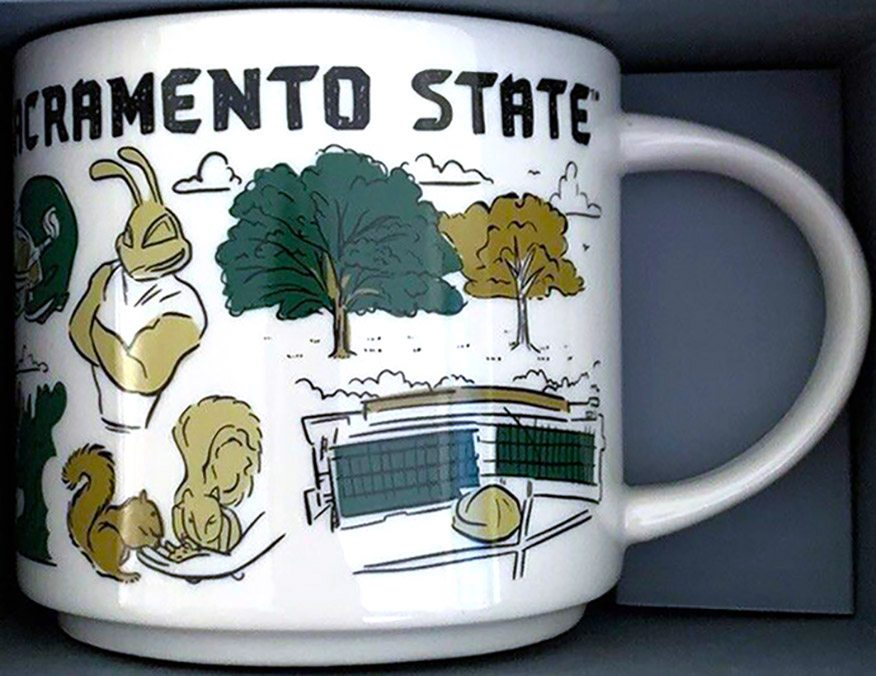 Been There – Sacramento State
Here's the second in the row Campus Collection release from this week, Starbucks Been There – Sacramento State mug. The full name of this public university is California State University, Sacramento (CSUS) a.k.a. Sacramento State a.k.a. Sac State. Speaking of the California State University system, it incorporates another 22 campuses, and some of them we've already seen releases for: Fresno and San Diego. It doesn't necessarily mean that all 23 campuses are getting the mug, however, I am sure, we can expect more.
More quick facts:
– Sacramento State was founded in 1947 as Sacramento State College;
– Around 31500 students enroll at University each year now;
– The University offers dozens of bachelor's, master's, and doctoral's degrees in science, art, business, engineering, and others.
The design of the mug is using the official colors of the university: Sac State Green and Hornet Gold. The front of the mug shows two trees which is a reference to around 3500 trees growing around the campus. The university was named "Tree Campus USA" in 2012 for that very reason.
Depicted below the trees is the Ernest E. Tschannen Science Complex. It is a brand new (built in 2019) science facility providing teaching and research laboratories for the College of Natural Sciences and Mathematics.
The athletic teams of the university are called Sacramento State Hornets, hence the hornet mascot below the title of the mug. His full name is Herky the Hornet, he represented the university for the past 70 years. The logo of the Hornets can be seen on the back of the mug, closer to the handle.
"Stingers Up!" refers to the hand sign of the extended pinky that along with the roar is the popular way of supporting the Hornets during the games.
The bridge that looks like the Golden Gate Bridge is in fact the Guy West Bridge that was designed to resemble the bigger brother. It is a suspension bridge for pedestrian and bicycle traffic across the American River. The bridge connects the Sac State campus with the Campus Commons neighborhood.
The Phlagleblast Game Card is a scavenger hunt around the University Union building that allows students, staff, and faculty to familiarize themselves with the Union. Once the game has been completed, visiting roughly 25 locations within the building, students may turn them in for a prize drawing.
Other buildings from the design are:
– Sacramento State University Library, the central library for the campus with more than 1.4 million volumes
– Sacramento State University Union
– The WELL is meant to engage and connect the campus community through innovative programs, places, and people.


Did you like this mug?